Julie Anne Spence Talks To Ciaran Green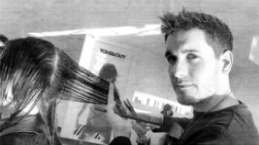 CIARAN Green is the Company Director of the new Toni and Guy salon in Lisburn Square. Having trained at the Style Academy in Belfast, he went on to work in a number of salons in the city, including his mother's own salon and spent five years at Hair Traffic, before going to work at Toni and Guy.
He completed his training with Toni and Guy in Dublin, where he stayed to help with the opening of the Dame Street salon, before returning to Belfast to become Style Director.
When Toni and Guy made the decision to open a new salon in Lisburn, Ciaran was keen to take over the management of the franchise and has now been successfully running the local business for several weeks as owner and style director.
I usually get up at about 7.30am. I still live in Belfast but I am looking to buy somewhere in Lisburn so that I can be closer to the salon.
I head in before 10 o'clock and I am usually there before the rest of the staff.
The first thing I do is to make sure that everywhere is clean and tidy, ready for the first customer to come in.
I set up the reception area for the day ahead, get the till ready and make sure the area is clean.
I check the bookings for the day, which is made easier as everything is computerised.
Each stylist does twelve appointments every day. Every client gets 40 minutes for their cut but sometimes a cut can take up to an hour so our appointments are spaced out to allow extra time with each client.
I only do cutting and have three stylists and one technician, but lam hoping to employ more staff as the business develops. This means that we have more time to spend on every aspect of the service.
Every six weeks we have art team training to keep us up to date on all the latest styles and techniques. Each customer gets a full consultation. We talk about the cut and colour until we are both 100% happy with what will be done. We also have colour charts in the salon, which we use as a visual aid.
I usually grab lunch whenever I can in between appointments. We are particularly busy on a Saturday so we just get lunch whenever we can. We close at 6pm most days but are open until 8 on Thursdays.
When we close I make sure that everywhere has been cleaned and the final job of the day is to cash up. I have accountants to do my book work so I do a daily reconciliation sheet and send them any invoices that have come in. When I leave here I usually call into the supermarket to get something for my dinner. Then I head home, make dinner and just relax.
In the evening I unwind in front of the television with a couple of glasses of wine.
I don't get very much time off at the minute so when I do get time to myself I like to just take it easy. Now that I'm working in Lisburn my main ambition is to learn to drive. Working here has really given me the incentive I need to start taking lessons. Starting my own salon was really daunting at the beginning. There was a lot of pressure before the shop opened and I was nervous about what it was going to be like working in Lisburn.
After the first week it felt like normality and I have settled in really well. A lot of regular customers have followed us to Lisburn from Belfast but its also nice to see new customers from Lisburn and having the opportunity to introduce them to Toni and Guy. There has been a great atmosphere since we opened and I am looking forward to welcoming even more customers and getting to know them all.
Ulster Star
03/03/2006