Jenny Munro talks to Claire Anderson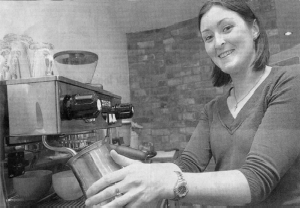 CLAIRE Anderson, 24, is the proprietor of Rustic Rainbow, the latest coffee house to open in Hillsborough.
After completing an English Literature degree at the University of Ulster, Claire did not know what she wanted to do so she worked in retail and at Dromore High School whilst considering her options.
Claire decided to open up Rustic Rainbow after some careful research revealed there was a demand for such a business in the local area.
I get up in the morning after 8am and like to be at work for 9.30am. Ruth, the cook, opens the shop up at 9am and makes a start on preparing the food for the day. I help Ruth out in the kitchen, check the stock, place orders with our suppliers and help design menus for the week.
While Ruth prepares the hot dishes I make scones, tray-bakes and sandwich fillings.
Catherine arrives at 10.30am and she cleans and vacuums the shop, which opens at 11am. Throughout the day I take orders, serve the food and drinks and make sure there is enough food ready for the constant flow of customers.
Although I'm kept busy I enjoy chatting to the people coming in. I am getting to know the regulars now so there is always plenty to talk about. We also provide a take away service and orders can be taken by phone so the customer's food is ready by the time they arrive. This makes popping out for lunch a more viable option during limited lunch breaks.
During the afternoon a lot of parents and schoolchildren come in for a snack. If it is quiet I try to get a break and maybe go for a short walk to get some fresh air.
The coffee house is open in the evenings so there is a staff change at 6pm. I stay on the premises until closing time. My family is very good at helping out if I have to be somewhere else.
Opening in the evening allows people the chance to catch up with their friends in a relaxed atmosphere. Before I started my own business I would have gone to Belfast to have coffee with friends. A lot of people have said they enjoy being able to go meet their friends closer to home. As I spend over 86 hours a week at work my social life has been hindered but my friends pop over for coffee and a chat regularly.
I close the doors at 11pm and tidy up before leaving. When I get home all I want to do is go to bed.
I have Sunday's off and really appreciate my free time. I am a member of Dromore ladies hockey club, but unfortunately I don't have much time to train. I try to make it to games on Saturday's but at the moment the business needs my full attention
Ulster Star
17/02/2006