Marianne Meehan talks to Claire Meehan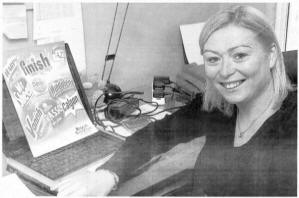 CLAIRE Meehan is 28 years old and lives on the Derriaghy Road in Lisburn. She is an Area Sales Manager for Sales and Distribution Company F.A. Wyatt. Before moving to her current company in June 2004, Claire worked as a Sales Representative for Allegro where she worked her way up to accounts manager. Claire studied Geography at Queens University Belfast after which she deviated into sales.
I work from home for the main part of my job so I normally get up at about 7am and the first thing I do is put the kettle on for my morning coffee fix. While the kettle is boiling I go up to the office to switch on my laptop. I check my e-mails and reply to any urgent ones.
At this time I will also phone various clients to update on any new information and arrange meetings if needs be.
My company deal with FMCG (fast moving consumer goods) - mainly household cleaning and personal care goods.
Once a week I travel to Dublin and on these days I will have to be up about 5am to leave home for 6am. The company is based in the South, so when in Dublin, customer meetings generally fill the afternoon.
These meetings entail discussing sales, new products, promotional plans and so on.
I work with sales personnel to develop independent accounts. I regularly manage sales meetings with my team in Northern Ireland. Managing the team in the North also means organising holiday relief and sickness cover.
I'm very passionate about my job. It is challenging and every day it brings something different to deal with. It definitely keeps me on my toes.
Because I work from home the work never really finishes - this can be seen as a good or a bad thing. I'll be at the desk until needs be. Some days this means working late but occasionally I get to finish early.
In the evenings I like to go to the gym. I take tone and trim and yoga classes. As well as it being a workout it is also very social where we can undo all the good work by going for dinner afterwards.
On the nights not spent with the girls at the gym / would have dinner at my parents house. You can't beat a home-cooked meal and it's good to catch up on things.
One of my favourite things, which I inherit from my mother, is shopping. I spend my hard-earned cash much faster than I make it when I get the time.
After dinner I relax in front of the soaps and occasionally I even indulge myself in a glass of red wine. Getting up so early I also try to get an early night so I'm fully fuelled for a weekend of partying.
Ulster Star
27/01/2006