Jenny Monroe talks to David Parkinson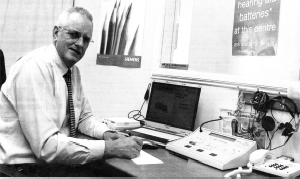 DAVID Parkinson RHAD MSHAA, owns Lisburn Hearing Centre on Bachelors Walk. Originally from Yorkshire he came to Ireland as General Manager for a large national hearing aid company. He fell in love with Northern Ireland and soon set up his home in Lisburn with his partner Gillian and her son Gareth.
I treasure the 45 minutes of absolute peace I get to myself in the morning after Gareth and Gillian leave for school and work - it's not the easiest task to get a 12 year old boy out the door in some sort of recognisable order.
I walk to work each morning as my new practice is situated just 15 minutes from home. This is a refreshing way to start the day. When I get to the office at 9am l switch all the equipment on and have a look at my appointments list.
The first patient usually arrives for a consultation between 9.30am and 10am. While I am with a patient my receptionist Laura deals with queries and takes bookings.
The days are varied, interesting and rewarding. Amongst my usual tasks of demonstrating hearing aids, carrying out hearing tests, servicing aids and giving advice, I also have the excitement that goes with the tasks of setting up a new business. My customers normally have a story or two to tell, which would brighten up the darkest of days and the life education I receive from them is priceless.
On a more serious note of hearing loss, it often takes seven to 10 years for a person to recognize and accept their hearing is impaired naturally and taking that first step to remedy it is a brave move for anyone to make. However, the vast majority of hearing aid wearers all say the advantages are great and are only sorry that they didn't act sooner in order to gain most benefit.
During an assessment l try to find out if the patient has a simple build-up of wax causing hearing loss - if so I will recommend that they make an appointment with their Doctor to have their ears syringed. I will also check for serious conditions which may need urgent medical treatment. If the person displays the signs of normal hearing loss I will conduct an audiometrical test. The audiometer produces sounds in the ear like a beep and I'll record the minimum sound they can hear and then compare the results with normal average hearing. If I feel a hearing aid is required - it may not be - I'll discuss the benefits with the patient and get some background about their lifestyle in order to decide on what type of aid would be most beneficial. Then I will make an impression of the person's ears with a silicone mix. A small soft block of foam attached to a string is eased down the ear canal to act as a barrier wall for the mixture. The mixture normally sets in about four minutes. This exact impression of the ear canal gives the manufacturer of the aid all the information needed to place the components in the aid. I will also send the manufacturer a copy of the audiogram and necessary requirements.
It takes 10-14 working days for the aid to be made and sent back to me. When I receive it, I let the patient know and arrange a 'fitting' appointment. During the fitting I explain how to wear the aid, replace the batteries and what to expect. I adjust the sound to suit the individual and advise them to wear the hearing aid in the house for the first week and then start wearing it in busier environments in the second week. It can be difficult to adjust to wearing the aid so I give the patients plenty of information.
After receiving the aid I advise the patient to have a follow up appointment. Here I find out how they are getting on and can answer questions. I also recommend that the patients arrange to see me every four - six months just so I can make sure they are getting the best out of their aid. This is all part of the service. If I don't have an appointment with a patient I will be preparing orders for the manufacturers, contacting repair companies or giving advice. I fix some aids myself but if I can't I will get a quote from local repairer and then tell the patients how much it will cost.
At 5pm I leave work and walk back home and have dinner with my family and catch up on the day's events.
Socially I am involved with the Lagan Valley Rotary Club. I enjoy camping and have a caravan. I like canoeing, riding motor bikes - generally getting the best out of life at every opportunity.
Most evenings 1 like to relax before going to bed around 11pm.
Ulster Star
29/09/2006