Jenny Munro talks to Dougie Durrant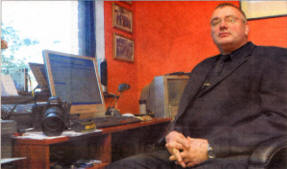 DOUGIE Durrant, 48, is a Security Consultant based in Lisburn. Originally from Bristol he moved to the local area to set up home with his wife who is from Northern Ireland. The security expert is also a Senior Instructor with the Northern Ireland Bodyguard, Surveillance and Survival Service (NIBSSS), which was founded in Northern Ireland in 1998 with the aim of providing close protection officers and surveillance expertise to companies and individuals all over the world.
I wake most mornings at 6.30am and let the dogs out. After breakfast / go into my office and check to see if I have any new emails or voice mail messages.
Every day is different as I could be working on an investigation or instructing people who have signed up to the private investigation and close protection training courses. I regularly receive enquiries about courses and the services NIBSSS offers. I'll reply to the emails and then contact the relevant people to find out what exactly they require.
The private investigation side of the business keeps me busy The investigations include missing persons, private investigation, insurance claim investigations. matrimonial, family, covert surveillance, pre-employment vetting and employers and public liability claims.
Client confidentiality is vital in my line of work so I won't divulge the details of the different cases I have been involved with.
In each case I discuss the best way of helping the client within the law - ensuring an amicable and professional solution to their problems.
This means a tailored package will be put together that gives them exactly what they want at a price that suits them too. At times I can have a team of maybe up to 12 people working on a case but again this depends on the job and budget. As myself and the people I bring on board to work on investigations or close protection jobs are self employed, this makes it easier to put a team together.
A case may last one day or a few weeks - again depending on the specific job.
Throughout the investigation the client will receive regular reports, which includes data entries and performance updates.
As well as the private investigating I offer CCTV installation, high risk security services, protective surveillance teams, close protection services and run special training courses which are regulated by the Security Industry Authority
During the week I could be instructing people in private investigation and close protection. This course is open to male and female students wishing to obtain their SIA close protection licence that is now mandatory. I also instruct a females only plus protection course and I am hoping to introduce a course for door supervisors in the future.
When I am not working on a case or training students I do paper work and general administration. I prepare for the classes and get all the equipment ready.
I check the internet to see what's happening around the world and I write reports on the students' progress.
In the evening I check for emails once again and then spend time with my wife. In my spare time I like to watch rugby, go out for dinner, walk the dogs and visit my daughters. After a long day I normally go to bed at 12am.
Ulster Star
10/11/2006