Jenny Munro talks to Ed Booth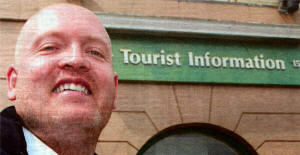 ED Booth works for Lisburn City Council's Tourist Information Centre, which has two offices that are based in Hillsborough Village and Lisburn Square.
Ed is originally from Nottingham. He trained as a chef before attending drama school and has spent most of his life travelling around the world.
When he was in India Ed worked for the Sisters of Calcutta and spent time working as a tour guide. After travelling the world he decided to complete a degree in tourism management. Ed became an ambassador for his University and in 2004 when he was at an exhibition in the Kings Hall, Belfast he realised how much Northern Ireland has to offer and decided he wanted to stay and get a job in the tourism industry.
I wake around 7.30am, shower, get dressed and put on the kettle for a cup of tea. I am a news addict so I'll watch the TV and eat my breakfast. I leave my house in Newtownabbey at 8.15am and drive to work.
I spend my week working between the offices in Hillsborough and Lisburn. If I am at the Hillsborough office the first thing I do is open up and switch off the alarm. I'll turn on the computers and listen to any messages left on the answer machine. Then I'll put out the relevant boards and complete the accounts from the day before.
During the morning I deal with a lot of general enquiries. Each day there are visitors from all over the world dropping by the office. We have the facilities to recommend and book accommodation and most mornings a number of people call in to ask for advice.
A typical day in my job includes merchandising the store, replenishing the gifts and souvenirs, changing the displays, contacting suppliers, discussing up and coming events with my supervisor, attending conferences, updating the website and contributing to the new events guide.
I am also involved with the Lisburn City Roadshows, which aim to promote Lisburn to a wider audience and after these have taken place I put all feedback into a report. There is a Bureau de Change facility for the international traveller so I am involved with this too.
I normally have lunch at 2.30pm. I like to take a late lunch as the office gets very busy at lunchtime and it's important that I am available to provide as much information as possible. During my break I go for a walk to get some fresh air.
In the afternoon I deal with more enquiries. Sometimes I go out and about the country visiting local tourist attractions and accommodation providers as its good to be able to provide the visitors with current up-to-date information about the local places we recommend.
I normally leave the office between 5.30pm and 6.15pm depending on what time the last person comes into the office for advice. At the end of the day people might call in at the last moment looking for somewhere to stay. After they leave I'll cash up and secure the premises.
When 1 get home I have a cup of tea and then start to prepare dinner. I watch the news again and relax.
In my spare time I enjoy cooking, eating out, sailing, and watching historical documentaries and heritage programmes.
I normally head to bed just whenever I feel exhausted.
Ulster Star
07/07/2006