Jenny Munro talks to Fiona Monroe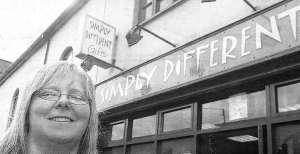 FIONA Monroe, 35, is the owner of `Simply Different' gift shop in Market Street, Lisburn which opened earlier this year.
She is married to Andy and they have two children Dale, 9 and Rebecca, 6. It was during a trip to Scotland that Fiona, who is also a part-time bookkeeper, was inspired to set up her own shop.
Fiona was diagnosed with Lupus five years ago but is determined not to let her illness get in the way of running her own business.
I get up at 7.30am, prepare breakfast and get the children ready. My husband opens up the shop while I take Dale and Rebecca to school before heading to my part-time job at a construction company where I work as a bookkeeper. My husband opens the shop and stays until lunchtime.
When I arrive at the office my first job is to open the post and check if wage timesheets have been received in order for me to be able to prepare wages for the previous week worked.
After 1 pm I go straight to the gift shop in Lisburn. The business is open six days a week from 9.30am - 5.00pm so I am kept busy. I suffer from Lupus, an illness which effects the joints and major organs, so it is a challenge working part-time and running a business as well as raising a family. I am determined not to let my illness take over my life and I just try to get on with things as best as I can.
When I get to the shop I'll have something to eat for lunch and then get stuck into the general running of the business. I make sure there is enough stock on the shelves and that everything is well presented. I have tried to ensure that unique and top quality products are available so I spend quite a bit of time sourcing suppliers and buying products, which I feel will sell well. The stock ranges from kitchen wares to gifts and accessories for special occasions such as birthdays, anniversaries and christenings. Customers might be looking for a particular gift so if it's not in stock I will try my best to order it in or find a suitable alternative.
I spend most of my time serving customers and I offer a gift wrapping service too. I also operate a Christmas club that enables people to leave a small deposit on items they want to buy and they'll pay it off on a weekly basis. I will take a record of the products ordered and the deposits made.
At closing time I'll tidy the shop before securing the premises. My work doesn't end when the door of the shop closes at 5pm. My children have to be collected from my mother's house and then taken home. I make the evening meal, and chat to the children before making sure they complete their homework.
In the evenings I prepare the packed lunches and then start to get the children ready for bed. When I have time to myself I might do some bookkeeping for the shop, complete paperwork and sort out bills. Occasionally I visit wholesalers and check out new product lines. I am always thinking about the products I sell. I also have to plan ahead for seasonal themes and what products I want to stock. At the moment I am already planning for Christmas. Running a business really leaves me very little time to relax but I do try - normally in bed with a book.
Ulster Star
22/09/2006