Jenny Munro talks to Florence Blair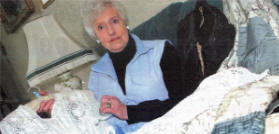 FLORENCE Blair, 65, is a volunteer for War on Want NI in Lisburn. Florence works once a week in the Lisburn branch and organises charity shows, which give the audience a glimpse into the past with a show of fashions worn during the years 1850-1919. The grandmother of seven has been putting on the shows for the past 12 years. The money raised from the shows and from the shops goes to support people in poverty in Africa, Asia and Latin America.
1 get up most mornings at 9am. As my husband is retired and I don't work we do not need to worry about getting up too early. I have breakfast and do some housework most mornings. I spend a lot of my days meeting up with friends, shopping and of course planning shows for War on Want. What usually happens is that event organisers phone me and get details of the fee charged for a show and then they call me back to make a booking.
I'll immediately write the date in my diary and contact the ladies who help me to see who will be available. The models and helpers work for free and give up a lot of their spare time.
I normally only put on one or two shows a month. Most are held in the evening but occasionally there are morning and afternoon shows.
The day before a show 1 am found ironing petticoats, drawers and gowns and getting all the garments ready. I make out a programme once I've found out which ladies are available to work on the team.
I pack all the clothes and accessories and organise the music tapes the night before a show. The Lisburn Historical Society has been very good in helping with the authenticity of the collection.
The `models' and myself drive to the venue in two carloads. I like to arrive an hour before the show so then 1 can organise all the ladies with their clothes. A typical show lasts between an hour and half to two hours.
I present the show which takes the audience back in time to the 1850's right through until 1919. Often I have to ad lib but I am well used to it after 12 years.
When the show is over, the clothes are carefully packed away and I have to come home and put everything away in its proper place.
We visit women's groups and schools. A lot of schools study the period we model so it's an original way for the children to learn.
Most of the gowns are original and many have been donated to us. We have a talented tailor on our team and she can restore most garments back to their original form.
There is another team that concentrates on the 20's and 30's. 1 help out with the music so that takes me out and about once or twice a month too. The clothes are beautiful.
Once a week I help out in the charity shop in Lisburn. I enjoy it and it is good to help a worthy cause. People bring in old clothes and bric-a-brac, which I have to sort out.
In my spare time 1 work on promotional leaflets that provide information on the shows we put together.
I enjoy walking, spending time with my children and grandchildren and socialising. 1 am a member of Lisburn Presbyterian Women's Association. I love cooking and going out for meals with friends and family. I am also a member of the Light Programme, which is organised by my church and am often out in the evenings at the theatre and cinema with the members from the group.
Ulster Star
05/05/2006