Jenny Monroe speaks to Gwen English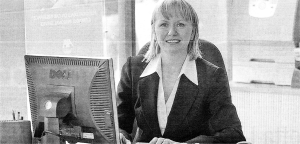 GWEN English, 35, is manager of AXA Direct, which opened a few months ago in Lisburn Square and has already become part of Lisburn's thriving business community. Gwen lives in Dollingstown near Moira and is married to Gary. They have a son Josh who is eight months old.
I get up at 6am, get ready for work and feed and dress the baby. I leave Josh off to nursery at 8 o'clock and am usually at the office for 8.30am.
After a cup of coffee I catch up on emails and any other correspondence and have a look at insurance updates and any changes in ratings.
Having a young child I usually work around 28 hours a week. The company is a family friendly firm, which is great and means I get to spend more quality time with Josh. As manager I am responsible for the day-to-day running of the Lisburn branch. Every day in the office is busy and goes by so quickly. Some days seem like a blur. There are two other girls on my team who are great to work with and extremely efficient. I spend most of my time dealing with customers and colleagues. People come into the office and I also speak to customers over the phone. I work out quotes, make changes to policies, issue policies and answer queries.
These days the customers really appreciate personal service, and it's amazing how meeting someone face-to-face can help us answer customers' questions and resolve queries so easily.
Car insurance can be arranged in one simple visit to our office and outside business hours people can use the website to get a quote online.
Nowadays we all lead such busy lives and the opening hours of the Lisburn branch reflect this.
As well as the normal 9am-5pm hours from Monday-Friday. we are open until 7pm on Thursdays as well as from 9am to 12pm on Saturdays so people can drop in when it best suits them.
Being located in the Square means that people who are maybe meeting friends for coffee. or out shopping, can look after their car insurance needs at the same time.
The company has an on-going commitment to road safety and reducing traffic related accidents so we give out leaflets to customers and make them aware of the campaigns AXA Direct is involved in. The campaigns. which include TV and 'Roadsafe' roadshows make people. especially young drivers, think of the consequences of careless and irresponsible driving.
From October we'll be able to insure young male drivers too so my team and me will be making sure the young people getting car insurance are aware of the message behind the campaigns.
I liaise with the AXA Direct NI Manager Alison Boyd regularly and once a month I attend meetings at the Belfast or Dublin head office.
I also work closely with the PR firm who handle advertising and promotion of the Lisburn branch.
With the recent opening of the shop I have done a lot of interviews and had to attend photo calls. Just this week I had to answer questions for an article going into the Lisburn Square Magazine. This helps raise the profile of the company.
Most nights I am home for 6pm. If my husband gets out of work early he'll collect Josh from the nursery otherwise I will. After dinner I spend time with my family. When I put Josh to bed I tidy the house and prepare for the next day. I try to relax for a while before going to bed.
Ulster Star
08/09/2006