Jenny Monro talks to Jane Wilson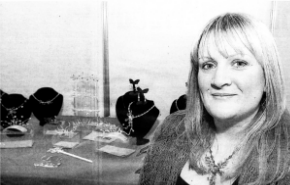 JANE Wilson, 30, lives near Ballinderry with her husband and baby daughter. She studied psychology at university but always had a keen interest in art. As a student Jane made jewellery for friends and family. She initially thought about starting her own business when she was preparing for her wed-ding in 2003. Jane couldn't find any tiaras or hair accessories that were unique so she decided to make her own. Everyone raved about her designs so when she became pregnant Jane left her job in the civil service and started up her own business.
I wake up early in the morning to feed my baby daughter Ella. My husband leaves for work and I get Ella and myself washed and dressed.
I have a workshop in Lurgan but I do quite a bit of work at home too. As I create most of my pieces from scratch, I spend a great deal of time designing and creating the products. My dining room is covered with materials at the moment but l don't mind as / enjoy my work and I also get to spend so much time with my child.
I design and create handcrafted tiaras, hair accessories and jewellery. As well as creating a range of head-wear and jewellery, l provide a service to all my customers where I can design and create a tiara or piece of jewellery which will reflect their own taste, style and personality. The customer can therefore be actively involved in the creation of their own piece - making their big day even more special.
I like to think that I give an excellent service with unique and artistic designs to suit every bride irrespective of their budget.
Brides can visit by appointment to discuss their ideas and view samples as well as the materials which l use. I order supplies online and am always looking for the best deals. This is cost effective and is reflected in my prices. Wire, crystals and beads are the main materials I use. I keep up-to-date with the latest trends by looking at fashion magazines. I like to have my finger on the fashion pulse so my range is fresh and in keeping with current trends and styles.
Brides will come to me for consultations and then return for alterations. Often the bride only intends to purchase for herself but after seeing what I design she ends up buying for the bridesmaids too. I work carefully
with the brides and find out their bud-get and what they really want. Designing and creating the products is time consuming. It is intricate work. I am a perfectionist and unless the piece is perfect l will not sell it.
I always carry my sketchbook with me just in case I come up with a new design. I am continuously thinking of new ideas.
My workshop is located on my father's business premises so l do have family close by to look after Ella if I am particularly busy.
In the evening my husband and I take turns preparing the dinner. Ella is bathed and put to bed. Occasionally I have appointments in the evening.
I like to spend time with my husband before going to bed around 11.30pm. For more information contact Jane on 07787 78425
Ulster Star
/2006