Jenny Munro talks to Jill Madden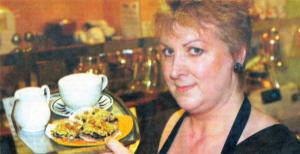 JILL Madden owns the Vanilla Catering Company based on Harrys Road, Hillsborough. She was a nurse at the Royal Victoria Hospital before embarking on her catering career 10 years ago.
Jill formerly owned a coffee shop in Lisburn before starting up Vanilla.
As well as supplying a wide range of culinary delights at her premises, Jill also caters for the home, private parties, corporate events and weddings.
The Moira woman, who has always had an interest in catering, took third place in an all Ireland coffee championship in 2000 and is now asked regularly to carry out Barista training throughout the province.
I am awake most mornings from 6.30am. I take my dog out and do a few jobs around the house before going to work.
I head to the coffee shop for 9am and get ready for the customers arriving. I bake fresh scones and bread, put the coffee on and start preparing the main meals.
As well as the general running of the business, I do all the cooking, source the ingredients and deal with suppliers but I do have a team of six people to help me throughout the week.
Recently I have been busy redecorating the coffee shop but it is all finished now.
Customers can relax in comfortable surroundings and enjoy their food and drinks.
The coffee shop is open six days a week but I also run a catering service too, so I am not always based in the shop.
I usually prepare food up until 12pm in time for the busy lunch period. The menu, which I devise, is changed every 48 hours. This means that regular customers get a varied menu each time they visit.
I read food magazines, attend food conferences and watch TV to find out the latest trends and this inspires my menu choices.
Throughout the day I serve customers. speak to reps and am occasionally out and about around the province giving food demonstrations. Women's groups invite me to talk about food and demonstrate cooking techniques. l am asked frequently to go to coffee shops and train staff on new coffee equipment.
When I am away from the coffee shop I know my business is in good hands as I have very reliable staff.
If I am not out on a demonstration I usually head home after 5pm and relax for a while. I enjoy watching TV and reading as well as catching up with friends.
I like eating out and trying new places. This allows me the chance to see what the opposition has to offer.
Every so often I run themed nights at the coffee shop, These are very popular with the regulars. I like to make these nights as authentic as possible and carry out my research properly to ensure the food and music is in keeping with the theme.
I also hold cookery classes and singles nights, which have been a huge, hit. The cookery classes are very popular with single and widowed men.
I enjoy socialising in my spare time and have a great interest in home decorating too.
I am normally in bed by midnight.
Ulster Star
28/04/2006