Jenny Monroe talks to Joan McGhee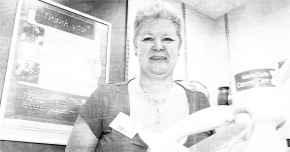 Joan McGhee is the Manager of the new Marie Curie Cancer Care shop in Lisburn, which opened in Market Street in June. She lives in Lisburn with her husband Sandy and has a large extended family. Joan was Manager of the original Marie Curie Cancer Care shop before it closed due to redevelopment last year. She was made redundant and enjoyed being a lady of leisure for a short while before the Manager's position at the new shop became available.
I get up at 7 o'clock and get ready for work. I have breakfast and then a chat on the phone with my mother Annette.
I walk to work each day and am normally at the shop for 8.30am. When I arrive 1 organise myself for the day ahead, and get everything ready for the shop opening at 9am. 1 put the kettle on and have some coffee before the first customer arrives.
In between serving the customers I sort out the donations which people kindly give to us to sell in the shop.
Donations are hugely important to the charity, helping to raise much-needed funds for more local nursing care. Small donations of clothing, accessories. books. CDs or unwanted gifts are gratefully received and can help to make a real difference.
The shop stocks everything from clothes and books to bric-a-brac and board games. All the clothes are steamed, sized and hung on rails.
Once a fortnight there is a delivery from the warehouse and all the items have to be merchandised or placed in our storeroom. The stock sold is inspected and we ensure that the products are of high quality. I have to price the goods too.
Marie Curie has also launched a range of new goods to be sold in the shops. The new lines are proving very popular.
People can choose from a terrific selection of high quality donated goods at reasonable prices. The shop is specifically a local hospice shop, meaning that all money raised will help fund the Marie Curie Hospice, Belfast which provides nursing care to people with cancer, 365 days a year. The hospice focuses on providing the best possible quality of life for people with cancer and all services are provided free of charge to patients and their families.
When I'm not serving I'm tidying up, merchandising, chatting to customers. organising volunteer rotas, liaising with Head Office and the Area Director as well as other store managers. 1 have a tea break around 11am and then I'm back on the sales floor.
Products. which don't sell after three weeks, are taken off the floor and sent to the main warehouse, this ensures that the stock is kept fresh and updated.
With the use of computers all the paperwork has been dramatically reduced. It saves so much time now which is great.
The shop is closed at 4pm to give an hour's recovery time. The wooden floors are mopped and polished and the shelves and rails are tidied. I lock up and leave around 5.15pm.
When I go home 1 enjoy cooking dinner with my husband and opening a bottle of wine. We catch up on the day's events. In the evenings I might visit friends and family. I always chat to my mother on the phone at night and go to bed when I start to snooze on the sofa.
Ulster Star
28/07/2006