Jenny Munro talks to John Lavery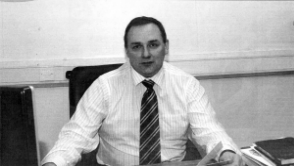 JOHN Lavery, 45, is Manager of G & M Fresh foods in Crumlin, which opened at the end of September.
He is a well known Manager within the grocery multiple sector in Northern Ireland and is now enjoying working in the community based convenience store.
John is married to Gillian and they live in Dromore with their two children Ralph, 12, and Michael 7.
I leave my house and drive to Crumlin most mornings at 6.30am. The store opens at lam and is always busy first thing with regulars coming in to buy newspapers and cigarettes.
When I arrive I have a chat with the staff, heck the store and make sure everything looks ok and if I have time I might talk to some of the customers.
I go into my office and prepare for the lay ahead and sort out the previous jay's business figures. I do spend a lot of time planning for future seasonal events. This includes working on promotions and ads. I try to get feedback from the start on their ideas on what the promotions should involve and I also discuss new product lines with them as well.
We are hoping to introduce an off-licence on to the premises so there is quite a bit of work involved with the planning, preparation and legal side of things too. At midday I like to try to spend some time on the shop floor and talk to the customers. It gives me a chance to make sure the store is meeting customers' expectations. I do encourage a friendly atmosphere.
Once a week I have a management meeting with the store owners Martin McClinton and Gerard McAdorey but I am also in regular contact with them throughout the week.
I spend time preparing orders, checking our pricing policy and sometimes I help stock shelves. l do try to be as hands on as possible.
I usually spend half an hour a day discussing stock control with Anne, a member of start who provides me with information from the computer system, and we discuss any other general administration issues.
As Manager I am responsible for staff training, and ensuring we all adhere to the strict health and safety guidelines. We have a great team here and the staff know what has to be done each day.
At lunchtime I take around 20 minutes to relax and have something to eat from our deli counter or hot food section. Throughout the week I spend a lot of time talking to reps and occasionally have meetings with them to discuss new product ranges. In the afternoon I work on whatever hasn't been done that morning. It's a chance to return people's calls and catch up on paperwork.
I do try to have a coffee break in the afternoon and Anne always make sure I have a nice scone.
I try and round everything up before I leave at 5 or 6pm. The store stays open until 11pm so I like to hand it over to staff leaving all the loose ends tied up. It is not unusual for me to call back to the store in the evenings to catch up on work or speak to the staff on the night shifts whom I don't see during the day.
When I get home I have dinner with my family I cook the odd time but it's mostly my wife who prepares the meals.
In the evening there's a chance to chat to the children and watch TV When the boys are doing their homeworks, or playing their computer games Gillian and I can catch up and enjoy a cup of coffee. Once every so often I head to the local pub to watch football. I am a Liverpool supporter and a member of the local Liverpool supporters' club. I try and get over to watch a match several times a year. I am also a Formula 1 fan too and like to go to one of the European races every year. Unfortunately with changing jobs this year I didn't get a chance to go. I stay up late watching Sky sports so I do not normally go to bed until after midnight.
Ulster Star
03/11/2006