Jenny Munro talks to Kevin Quigley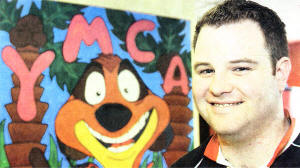 KEVIN Quigley, 28, is a youth worker at He lives in Lisburn and is currently studying for a Diploma in informal and community education.
When he was a teenager Kevin travelled the world. In his spare time he enjoys the performing arts and singing.
Lisburn YMCA's drop-in-centre exists to offer a facility where young adults can call in. They are under no pressure to take part in any activity, as the centre is informal and unstructured. The aims of the organisation are to build and develop relationships and to run programmes that meet the needs of the user group.
MOST days I don't start work until 2pm because I work late in the evenings. In the mornings I spend time studying for my diploma and working on youth scheme projects.
When I go to my office at the YMCA I check emails and respond to telephone calls and carry out administration work. This usually takes an hour.
Then at 3pm my work in the drop-in-centre begins. Young people join us for a chat and have a drink and maybe play some pool. I am there for the young people if they have issues to discuss.
Three days a week I run face-to-face educational classes. it is an individual pupil programme that provides an alternative informal educational route. I take maths, English and personal development classes. From 5pm - 6pm I spend time talking to volunteers and junior leaders. We rely heavily on volunteers.
The volunteers have to be trained on how to communicate with the young people and understand their needs. I am involved in training them and developing their skills in youth work.
At the moment I am encouraging all the groups to design a mural which represents what Lisburn means to them. I am also working on an educational catalyst programme on drugs and addiction.
Throughout the week we run learning disability sessions, junior and senior youth clubs and Attention Deficit Hyperactivity Disorder groups.
Frequently I speak to the centre manager with respect to youth work and I also express the views and opinions of the young people to the Youth Club committees. There is a staff meeting once a week too.
My main job is to listen to our young members and act as an intermediary between them and funders.
I usually head home at 9.30pm. I will make myself something to eat and then try and wind down. I find it difficult to relax after working at the centre. With so many activities taking place I am always wide awake when I head home. I try to chill out by watching TV and listening to music before going to bed.
It's a fascinating job and I'd recommend it to anybody interested in volunteering. I enjoy creating new programmes for the groups and getting positive feedback.
Ulster Star
19/05/2006