Jenny Munro talks to Linda-Jane Gilmore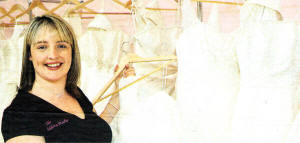 LINDA-Jane Gilmore, 23, is the proprietor of The Wedding Studio, located on Chapel Hill Lisburn. The Wedding Studio is the brainchild of Linda-Jane and her mother Lorraine Lowry. When Linda-Jane got married last year she found the process of planning her wedding very stressful. Following some careful research she decided that there was a niche in the local area for her type of business.
Linda-Jane is married to Glen and lives in Stoneyford.
I leave home at 8.30am and go to the studio where l do some paper work and make sure the studio is nice and tidy for the clients coming in.
The Studio is open Tuesday to Saturday. I process orders before 10am and this means that I am free to meet and great the customers throughout the day.
The Studio is spacious and this makes choosing a wedding dress a memorable and enjoyable occasional for all intended brides.
The brides come in and have a browse at all the gowns that are out on display. I try to choose designs that suit real life brides.
The brides-to-be try on the gowns in a relaxed atmosphere and usually they have people with them so I make sure that refreshments are available and that the potential clients are made to feel at ease. The brides try on lots of dresses and I help them accessorise in order to give them a better idea of what they will look like on their big day.
When I was getting married I had to use many different suppliers from various locations across the province.
I found this time consuming and caused a lot of undue stress before the wedding so I wanted my business to provide the complete bridal package for brides allowing them the opportunity to choose as many or as few products as they require.
I stock designer wedding gowns, bridesmaid and flower girl dresses, shoes, tiaras, veils, handmade wedding stationery, elegant handmade wedding favours and exclusive handmade tiaras and headpieces.
In addition to these I also work in association with local wedding suppliers offering wedding planning, photography, bridal flowers, transport, honeymoon services, chair covers and menswear hire.
The brides often go away and have a think about the dress they want and I provide them with a copy of the designs they like. Then normally they will call back and make an appointment.
The studio has a very relaxed approach and brides are encouraged to call in - appointments are only required for Saturday's and evenings.
Once the client decides on her dress I take measurements and then place an order, which usually takes 16-18 weeks to come. When the dress arrives I'll arrange another fitting and see if the dress needs to be altered in any way.
After a bride has been in to the studio there is a lot of tidying up to be done after as all the dresses and accessories have to be put back in the correct place.
During any quiet spells I do the book keeping, merchandise the studio, fix the displays and steam the garments.
I work until 9pm three times a week so I usually have a late dinner with my husband Glen when 1 get home.
In my spare time I enjoy socialising, going to nice restaurants and reading.
Ulster Star
14/07/2006