Jenny Munro talks to Marie Hayward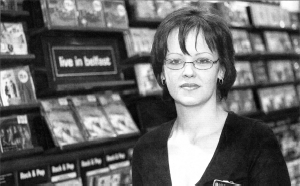 MARIE Hayward, 30, is the Manager of the Lisburn HMV store. HMV is one of the world's leading retailers of music, video and games. She is originally from Dudley in the West Midlands and studied Business and Marketing at University. Following a temporary Christmas job at HMV she soon took up a full time position and worked for a year before gaining a place on the company's graduate scheme. Marie was made assistant Manager of one of the chain's stores in Coventry then became the Manager of a new store in Swords in Dublin before becoming Manager in Lisburn.
I recently got a puppy so most mornings I am up at 5.30am letting Ridley out and feeding him before getting ready for work.
I have a cup of coffee and some breakfast before leaving my house in Glengormley at around 7.10am. I drive to Lisburn and try to be in the store by 8am. My main role is to manage the store,
organise the start and ensure customers' expectations are met. I order stock, am responsible for cost control, I make sure the shop is merchandised properly, train staff, liaise with the Deputy Manger and Supervisor, delegate jobs and much more.
One of the first things I do is to write up reports on the previous day's trade. I like to get this and any other paperwork done first thing in the morning or last thing in the evening as this allows me to stay on the shop floor for longer.
I check rotas, and generally get things ready for the day ahead. I walk around the store and make a list of the things which need to be done and then I delegate jobs to the Deputy Manager and Supervisor who then make sure the staff know what they have to do. The tills will be sorted out and then the shop is opened.
I carry on with the floor walk, making sure sections are checked, the appropriate charts and promotions are on display and everything is where it should be. With Christmas approaching the shop is getting even busier than usual so it is essential the shelves are replenished regularly.
I have an hour for lunch but it's often a working lunch. We get various deliveries throughout the week and I have to oversee that it is recorded, the merchandise is priced and tagged and then I prioritise what is most urgently needed on the floor. I am also sent bulletins and charts from Head Office so I have to ensure that the stock is displayed in the correct way.
I sign off the window everyday - by this I mean making sure it looks well and is clean and tidy. This is the season for getting in temporary staff so I have been busy interviewing and training the new staff This is challenging as the temporary staff have to be trained in a short space of time and still provide the same high level of service as the rest of the team.
The Regional Manager visits us on a regular basis and I have three conference calls a week. During these calls we discusses stock issues, progress, sales figures and share tips on what's working and why and we go through a check list. Coming up to this festive period there are several different shifts but generally if I start at Sam I will leave at 5 or 6pm. l go home and sort out the puppy and then have a cup of tea before starting to think about preparing dinner.
I am shattered most evenings but do like to spend time with my partner. I don't have much time for a social life to be honest but I do enjoy eating out and going to the cinema.
I like watching DVDs and listening to music and catching up on the phone with family and friends. After a long day I head to bed between 11.30 and 12am
Ulster Star
17/11/2006