Jenny Munro talks to Paul Cutler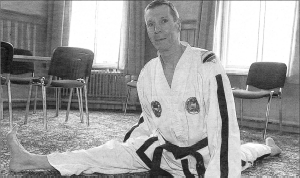 PAUL Cutler, 58, is the founder of the Paul Cutler Tae kwon-Do Academy. He has been training in Tae kwon-Do for more than 30 years and lives in Lisburn with his partner Caroline.
Paul had an interest in martial arts, and in particular the mystique surrounding them. He is a fully qualified 8th Degree International Master Instructor and has been honoured and awarded best instructor in Britain by Tae kwon-Do founder General Choi on several occasions. Paul's mentor and career-long instructor was the legendary pioneer Grandmaster Rhee Ki Ha, who was known as the Father of British Tae kwon-Do.
Most weekdays I wake at 6am. Tae kwon-Do is my life. I spend the first hour of the day performing a little routine to keep me flexible and in shape. My office is based at home but I spend most of the day going to the various centres around the province where I teach authentic Tae kwon-Do. It is a complete martial art and like any true martial art will take more than a lifetime to perfect. As well as Lisburn / have regular classes in Banbridge, Comber and Newcastle.
There are classes to suit all ages and abilities and include day care and nursery sessions to specialised sessions.
Some mornings I visit nursery schools. The main aim of which is to encourage the children to interact with others, develop co-ordination and motor skills through fun and exercise but still balancing this with the sense of order and discipline associated with the martial art. I also run alternative classes where I conduct and organise short courses, workshops and modules.
`Kikfit' and self-defence classes are examples of the sessions 1 teach. Kik fit is an aerobic type exercise class to music. The aim of this class is exercise, general toning, strengthening and flexibility in a fun manner but also learning an element of self-defence. The exercises are based on martial art `workout' which is considered as one of the best training programs. The class is structured and tailored to the individuals involved no matter what their ability or level of fitness may be.
The self-defence classes offer practical effective techniques designed to deal with most types of harassment both physical and verbal and to improve your awareness of potential danger, understanding fear and making it work in your favour. Learning to defend against an attack or perhaps free yourself from a grab and ultimately develop counter-attack techniques to use in an appropriate situation. As well as my classes I am involved in international events and often travel to take seminars on Tae kwon-Do. My partner Caroline helps out with the general day-to-day running of the business including the administration and accompanies me to all the classes. When I have free time I'll check my emails and answer queries people may have about the classes I offer. I might update my website and work on marketing strategies too.
Most evenings I go to bed between 11 pm and 11.30pm. Tae kwon-Do has enabled me to do things with my life and to become someone I could have never been without it.
Ulster Star
24/03/2006