Victoria Harriott talks to joiner Philip Chambers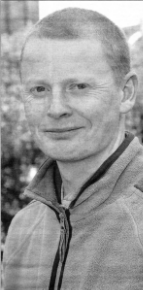 PHILIP Chambers is a self employed Joiner and runs his own small business. He is married to Anne, they have two daughters, seven year old Rebecca and four year old Emma, and live in Crumlin with their two dogs Mylo and Millie.
Philip began training as a joiner as soon as he left school aged 16, after being in a partnership for several years, he started working for himself a few years ago.
I get up at 6.30am, the girls usually get up at the same time so / make them and myself breakfast while feeding the dogs, then I waken Anne with a cup of tea before I leave the house for work at 7.15am. On the way to work I stop off in Belfast to pick up an employee then drive to work for an 8.00am start.
The nature of my work means I'm rarely under contract and am never guaranteed work. I work until the work is done then move on. / could be in one place for two weeks and then move on somewhere else for two years. Sometimes I have several jobs going on at the same time. At the minute I'm working on a new housing development called Redwood in the Seymour Hill area of Dunmurry.
A joiner always has a different task each day, especially when working on new houses. Some days I can be hanging doors which includes fitting the handles, hinges' door stops and locks. Fire doors can sometimes take twice as long to fit because of their weight. Other
days / could be laying floors or fencing. Putting a roof on can take some time depending on the size. A house roof could take a few days whereas a garage roof could be done in a day.
All tradesmen usually set down tools around 10.00am for a half an hour tea break and have lunch around 1.00pm.
I leave work at 4.30pm during the week and 3.00pm on a Friday. When I come home I have my dinner which Anne has waiting for me and after I would help out with the dishes. If I have the energy I take the dogs for a walk before spending some time with the kids then heading to bed.
During the summer I like to work a few evenings during the week. A lot of work comes from people wanting home extensions such as conservatories or garages. Most of the time people require simpler tasks such as new doors or wooden floors.
When I'm not working in the summer nights I like to do some gardening and some home improvements of my own. With the help of my brother in law who is a brick layer and some friends such as plumbers and electricians. I have built my own sun lounge' which we use as a dining area. I have also built a garage' which has been taken over by the dogs and made an extra living area by putting up a stud wall in the kitchen.
At the weekend I like to wind down and take it easy after a hard week at work. On a Saturday Anne and I usually take the kids to the cinema' swimming pool or the beach for some quality time and maybe pop in to see the grandparents on the way home.
When the kids go to bed and I like to relax and watch a film with a Chinese takeaway.
Ulster Star
21/04/2006