Jenny Munro talks to Rachel Graham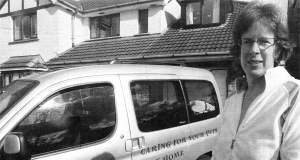 RACHEL Graham, 37, runs a mobile veterinary business called `Vets to Pets'. She graduated from Glasgow university in 1992 with a degree in Veterinary Medicine and Surgery and is a member of the Royal College of Veterinary Surgeons.
Originally from Shropshire, she now lives in Anahilt with her husband and three children. Having worked in several small animal practices in England and more locally the busy mum gave up working full time hours to spend more time with her family. When her youngest child reached school age she decided to set up her own business so she could work hours to suit her family life.
Earlier this year, after completing a business enterprise course, Rachel set up her own mobile vet business and travels around the country treating people's pets in their homes.
I get up at 7am and make sure my eldest daughter is ready to leave for the bus at 8am, then I wake the other two children at 7.45am and help them get ready for primary school.
I make sure the lunches are ready and that they have everything they need for the day. When I've dropped them off at school I'll take my dog Poppy for a quick walk around Hillsborough Lake and check if any messages have been left overnight on my mobile phone.
When I get back home I sort out queries and appointments and prepare for my first job. If I have time to spare I make a start on the evening meal.
I provide 'in-house' veterinary care for domestic pets and cover areas such as Dromore, Hillsborough, Carryduff, Saintfield, Moira, Banbridge, Lisburn, South Belfast, and Maghaberry. I carry out a thorough physical examination of the animal when I visit, which is the way that many diseases can be identified in the early stages.
I offer a range of services from puppy/kitten check-ups to vaccinations, preventative healthcare to diagnosis of diseases. Treatment of conditions can be started immediately as I carry a supply of small animal medicines. I also provide a service of gentle `at home' euthanasia. This is much less stressful for owners and animal alike than a visit to the surgery.
Examining an animal at home in its own environment has advantages as the pet is more relaxed and this helps me make a more accurate diagnosis. It's also a very good alternative for people whose pets get very distressed during car journeys.
I can carry out diagnostic tests like urinalysis, skin scrapes and blood samples or I can refer the animal to a suitable veterinary clinic if the client prefers. I will also refer the pet to a clinic for procedures such as radiography, ultrasonography, biopsies or if a surgical procedure is required. If the client wishes I will continue to visit the pet at home after it has been discharged.
On a busy day I normally have appointments booked in until 2.30pm. On average a house call lasts around 30 minutes. Throughout the day people ring me to ask my advice and make appointments.
If I have time I will go home and get some lunch and every so often I call into pet stores to leave off business cards. I sometimes have to go to a local vet supplies store to stock up on equipment and items like ear drops, antibiotics, prescribed foods, worming tablets and flea powders.
1 have a room in my house which I use as an office. In here I catch up on phone calls, sort out samples to be sent to a laboratory in England, work on the administration side of things including the accounts, paying bills and keeping the animals records up to date.
Later in the afternoon I collect the youngest children and get them stuck into their homework. My eldest daughter arrives back from the bus at 4pm and I make them something light to eat and chat about their day at school.
My evenings are fully occupied as I work in a veterinary clinic in Portadown three nights a week consulting for two hours from 6-8pm. My children go to swimming classes several nights a week so if I am working their father will take them. When I get back from work I will have dinner with my family and try to relax.
I have netball practice on a Tuesday night and go to a church group every other week. At the weekend my husband and I foster a little boy and take him out and about with our children. This is a very rewarding experience.
In my spare time I read veterinary journals and like chilling out with my husband and children . After a long day I head to bed around 11 pm.
For further details you can contact Rachel on 07737383464 or via the web-site: www.vets2petsni.com.
Ulster Star
06/10/2006