Jenny Munro talks to Roisin McCrory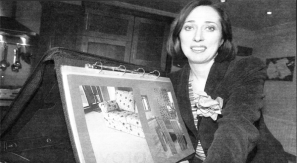 Roisin McCrory, 34, is an Interior Designer. Originally from Finaghy and now living just outside Lisburn, she runs her own design business from home.
Roisin's design career began after she obtained a BA (Hons) degree in Design, including Foundation Studies in Art and Design, at the University of Ulster. She has held various positions as a designer and in management.
There really is no such thing as a typical day for me, especially now I'm working for myself. I've been designing in my 'spare' time for friends and family for years but the word spread so I gave up my job to concentrate fully on the interior design work.
Mornings are a very busy time in my house as I have a toddler to feed and dress before my husband takes her to my mum's for the day - we are on a pretty tight schedule and the house is usually a flurry of activity until she leaves. I start work between 9 and 9.30am in my office at home. Usually I start checking and sending my e-mails. I do a lot of my communicating electronically, and spend many hours sourcing products and services online. After that my day might involve seeing a new client at their home for a consultation or presenting story boards and a design to an existing client. Sometimes clients have a bit of an idea of what they want but more often than not, it is a case of clients knowing what they don't like. They'd also rather not have the stress of sourcing everything themselves and organising workmen. As an Interior Designer it is my job to put together a scheme which is unique for a client's requirements. I discuss the function of the room and assess which design style would best suit their personal taste.
I discuss overall design, colours, furniture, soft furnishings and accessories. This translates into a mood or storyboard to demonstrate the feel for the room.
I believe beautiful and functional interiors should be accessible to everyone, whether you want something ultra modern or cosy and traditional. That is why I can either charge a fee for consultation and design, or alternatively, see the project through from start to finish.
I am also mindful of the practicalities when designing a room, especially if there are children in the family. 1 have a toddler so I know there's no point having a room start off looking beautiful if there is nowhere to put toys and little hand marks can't be rubbed off or washed out easily.
A large part of my day is spent visiting local manufacturers and tradesmen - who I try to use where possible - to discuss a particular client's requirements for sofas or curtains, and selecting fabric books for my presentation.
Generally I work until about 4.30pm, however most of my initial consultations take place in the evenings to accommodate people who are out at work during the day.
My free time is spent as much as possible with my daughter, going to various mother and toddler groups.
I also like to walk the dogs and catch up with friends over dinner. I nearly always have a book on the go or an interiors magazine and I enjoy watching television and going to the theatre.
For further details look up www.rmccroryinteriors.com.
Ulster Star
08/12/2006