Jenny Monroe speaks to Ross Cullen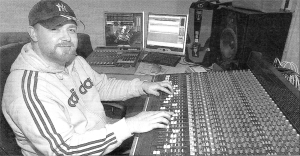 ROSS Cullen, 29, is the Managing Director of Railway Studios, a commercial recording studio in Lisburn.
At a young age he developed an interest in music technology and a desire to help bands produce better music. He embarked upon various music courses and is now an established sound engineer.
A normal day at work usually begins at 10am when I arrive at the office. I check the equipment, backup the servers and look at the schedule for the day.
If a band is coming into the studio to record I make sure the equipment is in good order - this involves testing the microphones and other essential equipment just to make sure everything is in place and ready for the band arriving.
Pre-production I go through the songs and analyse what work needs done and how they can be tidied up. Then I'll move onto the tracking process, which includes editing and mixing, and I'll have a chat with the bands to discuss the general direction of the tracks.
A lot of the bands ask me to not only record and produce their songs but also work on the marketing side of things through the use of press coverage, web-sites and also video production.
On average an EP takes around three days to produce and a band session can last as long as 10 hours a day in the studio.
Video production is an area which I recently moved into. I am involved in Liar Film Productions, which produces videos that are perfect for a band's promotion pack. This side of the business means I am out on location quite a bit filming gigs or working on music videos. The company produces videos to suit any budget and hopefully the filming of weddings will be another area the business covers.
When producing a video I will listen carefully to the lyrics of the track and get a feel for what the song is about. Then I'll make a storyboard and layout my ideas for the video shoot and discuss them with the band or artist and make arrangements for a video shoot, which can take hours or run into a few days filming depending on the complexity of the video concept.
I receive a lot of demos from bands so when I get the time I listen to them - lam always looking to spot new talent and help bands onto the music industry ladder.
Not only do I record and produce but I also have the general running of the business to do too so when I have free time I get stuck into the accounts and paperwork. I also like to promote the recording studio as much as possible and this involves networking.
Throughout the day I may have to work out quotes for bands and respond to enquiries from bands interested in recording at the studio.
Once a week I work with a group of young people from the Engage Project, a project which helps kids who live on the streets learn new skills. I also work closely with the School of Music in Lisburn and tutor some lessons. Students come into the studio and record mini sequences and develop their musical and technical skills. Bands also record over the weekend so sometimes I put in 35-40 hours over the weekend alone. I work most evenings as bands often book the studio to rehearse in. Most nights I finish around 11 pm and then it's straight home to my bed.
My job keeps me very busy but I enjoy it and it's what I do best.
Ulster Star
01/09/2006