Jenny Munro talks to Sean Connolly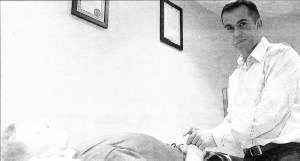 DUNMURRY man Sean Connolly, 38, is a life and motivational coach and is based at the Chum Sut Centre, Saintfield Park Lisburn and takes a new complimentary health clinic on the Lisburn road once a week.
Following an injury 16 years ago the local man enrolled at Queen's University to study reflexology and physiotherapy and he soon developed an interest in traditional Thai therapy. Sean also qualified as an advanced medical hypnotherapy consultant.
After spending time in Singapore and Thailand, Sean's passion developed and he decided to set up as a life coach and put his knowledge of both western and eastern rehabilitation practices into use.
After breakfast I drop my four children off at school. Most days my life coaching starts at 10am until 5pm but / do make out of office visits too. I regularly have breakfast meetings with clients who require me to help them manage their stress levels. Many business executives don't have the time to come out to me so ask me to meet them at their work. These days I have a lot of businesses asking me along to motivate their staff. If I don't have an appointment like this to attend I'll head straight to the clinic in Lisburn and get myself ready for the day ahead.
I practice a wide range of western and Asian therapies and have a special programme, which / use to develop human potential.
The media is very interested in the work I do and I am currently involved in a BBC documentary. which involves me working with children from different sectors of the community - helping them build their self esteem and empower positive beliefs in themselves. Recently I have been invited onto radio shows to talk about my work - it seems there is a great interest.
My patients range from New York surgeons and top athletes, to people who are depressed or terminally ill.
As a life coach I look at the whole person, mentally and physically. I provide people with tools for life. My work entails boosting the immune system by power of the unconscious. It is my belief most ailments stem from the emotional, unconscious mind so this is the area I endeavour to tap into. All the resources you need are inside you. I just show people how to use them. I encourage my clients to take responsibility for their own happiness and life.
Some of my clients put themselves down so my job is to build new beliefs and replace negative thoughts with positive ones. To do this I have to manipulate the nervous system. I teach people how to look up to themselves.
I work alongside groups for the disabled and adult learning centres too and I find this very rewarding.
If I am not at either of my clinics I am making out of office visits and liaising with my marketing manager and organising my schedule.
I take family life serious and always make time for my partner Jacqueline and my children. I try to collect the children from school as often as possible and maybe take them to the park
Three evenings a week I take martial arts classes so any spare time I have is spent with my family. In my free time I work on the book I am writing and I enjoy reading.
Most nights I head to bed at 10.30. I really do enjoy my job - it's not like work at all.
Ulster Star
30/06/2006