Jenny Munro talks to Tim Wilson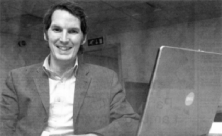 TIM Wilson, 33, is Commercial Manager at ICT Data Continuity Services based in Market Lane in Lisburn. He is married to Christine and has four children.
Tim has been working in senior business development roles for over 10 years and joined ICT when the company opened earlier this year. The new firm hopes to revolutionise Data Protection for businesses in Northern Ireland.
It is a mad house first thing in the morning getting the children up and ready After breakfast I take my eldest child Jessie to school and then drive to Lisburn. This usually takes half an hour.
When I arrive at the office I check my emails and chase up people as well as making enquiries and arranging meetings.
A typical day includes me writing up proposals and organising meetings with clients. Most people don't really know what it is exactly that we do here and as Commercial Manager it is my job to make businesses aware of our services and what they entail.
We offer data continuity services to businesses throughout Ireland and the UK.
The venture is a response to growing demands for affordable and focused continuity services for data systems in the dynamic small businesses sector. Nowadays most businesses have become highly reliant on technology and computerised systems in order to achieve efficiencies and increase profitability and it is crucial to the survival of modern commercial operations to have access to and protect its core business information otherwise known as data.
For too long companies have been convinced that the data on their IT systems is bullet-proof because they had 'back-ups'. It is a well known assertion that up to 50% of restores from backup systems will fail, resulting in a devastating situation when they need to recover data. Companies and organisations simply cannot afford to take chances with the very lifeblood of their business and this is where ICT comes in.
Business continuity is now one of the most important assets to any commercial organisation. Without an effective continuity plan. the likelihood is that in the face of unforeseen disaster, companies may ultimately fail.
I find out what the client requires and all the information is logged into our system. Then so when our technical engineers are devising a back up solution they have access to this and know exactly what the requirements of a particular client are.
I don't have a set lunch hour but occasionally my wife will meet me for something to eat and I regularly have working lunches. In the afternoon it really is pretty much the same thing as the morning. Phoning clients, responding to emails and liaising with our team of engineers who install the data protection services.
I normally leave the office at 5.15pm in order to be home around 6pm as my wife is a music teacher and works in the evenings.
When I get home Christine goes out to work so I look after the children, making sure they have finished their home work and take them to any clubs, or activities they have on. As they range in age from 11 - 5 the bed times are staggered.
Christine and 1 have our dinner together when she gets in at about 9pm. It's a bit late but well worth it as its the only quality time we get with each other.
After dinner we sit and chat with a glass of wine and maybe watch some TV before heading to bed at midnight.
Ulster Star
29/12/2006