Jenny Munro talks to Wendy Gibson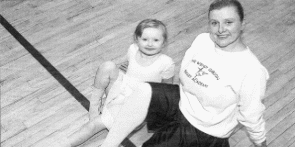 WENDY Gibson runs the `Wendy Gibson Ballet Academy'. She lives in Lisburn with her husband Andrew Bell and their two daughters Natalie, 5, and Rosie, 2. Wendy is a fully trained classical ballet teacher and holds a Royal Academy Dance Teaching certificate with distinction. She runs classes twice a week at Christ Church Hall, Hillsborough Road Lisburn as well as in Coleraine.
As a busy mum of two I now only hold classes four days a week - Monday and Friday in Lisburn and Wednesday and Thursday in Coleraine.
My eldest daughter is starting primary school in September so I'll have a new routine.
During term time I get up at 7am, make breakfast and get the girls ready. My husband goes off to work and 1 will take Natalie to School. Then 1 come back home and do some housework and plan what I am going to cook for dinner. 1 have to be organised and think ahead. I also have to entertain my youngest daughter Rosie as well as preparing for the dance lessons.
My first class in Lisburn is in the afternoon so after collecting Natalie from School I take the children to their grandparents' house and then drive to the church hall. On a Monday Natalie comes with me as she participates in one of the classes.
When I arrive at the Church Hall I will talk to the pianist to sort out the music and then I get everything ready for the students arriving.
The first classes on a Monday are for beginners and pre-primary school aged children. When the very young children arrive I call the roll and I put on some calming classical music and let them chat about their day. Then they are ready to begin their lesson. During the young children's classes I choose a child to wear a tiara and they get to stand at the start of the line. This makes each of the children feel special when it's their turn to wear it.
The first class lasts 45 minutes and consists of demi-plies (bending knees), mimes such as pretending to ice skate or be at the seaside and some technical moves. At the end of the class the children say thank you to the pianist and then their parents collect them.
Soon after I take a class for primary school aged children and then a class for students at grade one level. It is the same basic procedure in these classes. There's a roll call and then we get stuck into the dance lesson. During the grade one lesson the children do character work and learn traditional routines from countries such as Poland, Russia and Hungary. I take the other grades on a Friday at the same location.
As well as teaching my students I have to track their progress, carry out the administration and enter the students for Royal Academy of Dance examinations, which take place three times a year. I also put on special ballet shows every once in a while. Around 6.30pm l collect my children and go back home to have dinner with my husband. Once a week 1 go to a Ballet Club in Belfast but most evenings are spent with the family. The two days I am working in Coleraine 1 normally get home around 8.30pm.
After I put the children to bed I try and sort out any paperwork from the lessons that day and respond to enquiries 1 may have received. I am not in bed until around midnight.
Ulster Star
25/08/2006