Jenny Munro talks to Alan Pentland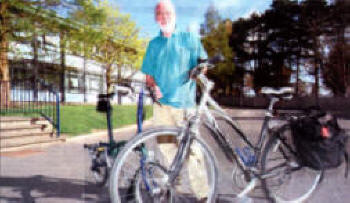 ALAN Pentland, 61, from Lisburn, is a National Standard Cycling Instructor and one of the founders of Tri Cycle -a business set up to help others cycle safely. Tri Cycle offer group and individual on-road cycle training for children, young people and adults. Alan worked for BT before taking early retirement. He is a keen orienteer and heavily involved with the Duke of Edinburgh Awards scheme, and the Northern Ireland branch of the National Cycle Network, which he helped create.
I wake up most mornings at 8.30am, have breakfast and then check my mobile and email for new messages. I am based from home and each day varies depending what is booked in the diary I might be out taking a group or an individual on a cycle ride, or at a nearby primary school helping children complete the new National Standards on road cycle training.
This is a three tier training scheme devised to teach individuals how to cycle safety and confidently on the road with respect for other road users. It goes beyond the Cycling Proficiency Test which was devised in the 1930s and takes place in the confines of a playground. The new Standard reflects the needs of today's cyclist and this means that training is now based on the road in real traffic situations under safe supervision.
As well as taking bookings, I liaise throughout the day with Karen Mawhinney and Jill McDonald who run Tri Cycle with me and we sort out up and coming jobs. We are hoping to soon provide bicycle maintenance workshops and cycle route planning and we are organising leisure cycle rides over the summer months each Wednesday from local starting points within Lisburn city
If I am at the primary school taking lessons with my fellow trainers, we'll do a bike check, look at the tyres, test the gears and breaks and make sure there are no loose parts.
Then when the pupils have adjusted their helmets properly as well as making sure they have their light reflective jackets we will go out on the bikes. As trainers we demonstrate how to carry out certain procedures such as turning into a side street and negotiating traffic and as we go along we have a question and answer session and ask the children to think why they are doing a particular move.
The children then get a chance to mark each other and provide constructive criticism so they will remember in the future. I continuously assess the students and I fill out a progress report to give to the parents and at the end of the course I give them feedback.
At the moment I am negotiating with a local grammar school to get a pilot scheme started and I am in talks with various library boards. I am also about to embark on training courses for the Southern Health Board who have implemented a Cycling Teachers' Award and have brought Tri Cycle on board to train up to 18 future cycle leaders on how to take cycle groups properly
There is a lost generation of cyclists and I hope that Tri Cycle will help encourage people back onto their bikes. The summer cycle rides just started up and on a Wednesday from now until the end of August we will be operating cycle rides around the local area. People have been calling to get more details' and arranging to join us on the guided leisure rides which last around three hours and include a tea/coffee stop.
We follow mainly quiet roads and cater for all cycling abilities.
I have also started working on a cycling guide for Lisburn City highlighting unknown roads and am involved in a Bike to Work scheme and with the National Cycle Network.
In the evenings, depending on the weather. I will go for a spin on the bike. In my spare time I read, listen to music and head to bed around 11.30pm.
Anyone interested in re-discovering their bike should contact Alan on 07702347829 or email tri.cycle@btinternet.com
Ulster Star
11/05/2007