Jenny Munro talks to Andy Wilson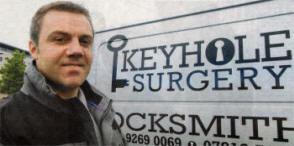 ANDY Wilson, 33, recently set up his own locksmith business `Keyhole Surgery Locksmiths'. The Dromore man spent January to April this year in England training and learning the mobile locksmith profession. He now offers a fully independent equipped mobile locksmith service supplying and fitting British Standard locks to help people remain secure.
Having spent 15 years working as a civil servant Andy started the business to get out from behind a desk and meet people. He is married to Rosemary and they have a baby son called Thomas.
I usually wake up at 6.30am and help my wife Rosemary get our 23 month old baby son Thomas ready for nursery. Then after breakfast I try to do some paperwork and review my diary. The business covers all of Down, Lagan Valley, as far north as Antrim and as far west as Portadown so no two days are ever the same.
I carry out both commercial and domestic work. A company might call me out to update locks and secure the business premises or a householder might have lost their keys and are locked out of their house. I really do like a challenge and this job provides me with plenty of those. If I am called to a person's house I make sure whoever has contacted me owns the premises and then I get to work. There is always a way into a house so I'll check all the exit and entry points and then select the easiest method of entry. Depending on the situation, I might have to change the locks.
As the business is in its early stages I have been heavily involved in local community initiatives. I liase with the local Crime Prevention team, neighbourhood watch schemes and at the moment I am running ad campaigns with radio stations and newspapers. I am also connected with community safety campaigns and I provide information and security tips to householders.
My advice to people is that the best deterrent is being prepared. The thief is on the lookout for an empty house - it need only be empty for a short period of time, perhaps while you are out shopping or visiting a neighbour. You might even be just out in the garden.
The thief is looking for quick and easy ways in and easy ways out again so I suggest that people make sure all doors and windows are locked, install British Standard locks on all external doors, including any internal door to the garage, install key operated window locks and have their locks changed when they move into a new property, or when keys are lost.
Home security is all about making life as difficult and risky as possible for the potential burglar. Anything which delays a burglar will deter them and the best deterrents are quality locks fitted to all the vulnerable entry and access points. Door and window locks will deter many casual thieves who are looking for a quick and profitable opportunity.
I also work with letting agencies/estate agencies who ask me to secure premises for them and I am keen to work with bodies who deal with repossesed properties. My van is fully equipped so I easily repair locks or fit new ones within a short space of time. If I need new parts I will contact my locksmith supplier. With a full array of locks I choose the appropriate materials and then get to work. Once the lock has been fitted and realigned to the door frame, I will test the keys and cut spares if required. If I am refitting locks in a commercial property this could take 2 1/2 to 3 hours to complete, depending on how many locks are required.
Throughout the day people call me to arrange estimates or surveys to help keep their property secure. This is a free service. I will then schedule an appointment to go out and look at the property. Often I get emergency calls from people and I endeavour to get to them as soon as I possibly can.
I operate a 24 hour service but generally I am home after 5.30pm. I occasionally work in the evenings if l am involved in a shop makeover but most nights I spend time with my family. Every so often I will get out-of-hours calls from people and if it is a genuine emergergency which requires my assistance urgently I will go out. If it really isn't an emergency I will arrange with the customer to visit them the next morning or whenever best suits them.
I n my spare time I enjoy hill walking and thinking of new ideas on how to market the business. I really enjoy my job as it is challenging and exciting at the same time. I gain a sense of fulfilment from giving people security
Ulster Star
25/05/2007