Jenny Munro talks to Angelo Michaelides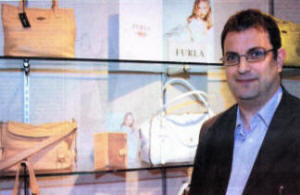 ANGELO Michaelides, 47, owns `Angelo Designer Handbags' based in Moira. Originally from England, Angelo moved to Northern Ireland four years ago with his wife Catherine who is from here, and their three children Andrew, Natasha and Emma.
Angelo worked for over 20 years with BT in London and locally for several months but he then took voluntary redundancy and decided to set up his own business. It was during a holiday to Italy that he was inspired to become a designer handbag retailer.
I leave my house at 9.15am and walk to the store on Main Street in the village. When I get in I'll check the computer for emails from my suppliers who are in regular contact. I am continuously looking to bring new suppliers on board as it is important to try and improve the range available.
The shop opens at 9.30am. When it is quiet I might tidy the shop and make sure everything is displayed properly. The style of the shop is contemporary for the woman with style and elegance. The customer can shop or browse in a relaxed mood and is provided with a high level of customer service at all times. I encourage people to try the bags out to let them get a proper feel for the style. Many shops don't do this but I find it helps the customer decide if the bag is what they are looking for. There is a range of Italian designer handbags from various leading brands including Furla. DKNY, and Longchamp. The high quality bags reflect the current fashion trends in the seasons colours. The superb range of handbags suit most people including the busy 'girl about town', and are practical without compromising on style or quality. Sometimes customers think a particular bag won't suit so I try to show them how to carry the bag properly. It is amazing how knowing how to hold a bag can make such a difference to the way a person looks. At times some ladies come into the store looking for a clutch bag to take to a wedding but I try to encourage them to buy a sensible leather bag. which they can use over and over again. Recently I have been busy working on marketing strategies and advertising and trying to get a new website set up and running. This has meant liaising with prospective web and graphic designers. I also flick through local business magazines just looking out for potential customers to sell a new range of laptop bags to. As well as serving the customers I do the general business administration and go online to check banking matters.
As I am on the shop floor I don't take a proper lunch break but instead just grab something to eat when I get the chance. My wife is a nurse and works shifts but she helps out as much as she can and does the book keeping.
The summer clearance sale begins at the end of July and I am sorting out the stock to be discounted to make way for the new exciting range for autumn. To be honest the most exciting part of my job is going to preview the designer collections. Several times a year I travel to Italy and London to meet agents from our suppliers. I visit showrooms to preview the collections and have a look at the styles and colours. I buy the bulk of the stock from Milan.
I leave the shop at 6pm and head home. If Catherine is working in the evening I have to get the children their dinner and take them out if they need to go anywhere. I enjoy going to football matches and socialising with friends and family. I miss my friends in London a lot so I try to get back as often as possible.
I am really enjoying the lifestyle over here, It is such a relaxed way of living compared to when I was in London and I am glad I set the business up in Moira.
Ulster Star
13/07/2007