Jenny Munro talks to Annette Burke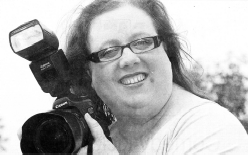 ANNETTE Burke, 36, runs a photography business called `Ever photos' and recently opened a new studio in Dunmurry.
At the age of 17 she got her first SLR camera and joined a YMCA camera club. Annette soon developed a real passion for photography and continued to take photos in her spare time whilst working in the chemical industry.
The local photographer is honorary secretary of the Professional Photographers' Association for Northern Ireland (PPANI), which was formed in 1966 for full time professional photographers who wished to keep in touch with each other's trade, trends, new methods and techniques to improve the standard of their work and ultimately benefit the public.
Annette clinched the prestigious `Celebrate Belfast' award, sponsored by Belfast City Council, last year and she was runner up in a number of categories this year.
Summer months are hectic and depending on what my work load is like, I might have a 6.30am start so that I can be at the studio by 7am. When I first started the business I didn't expect to be so busy but I do thrive on having lots to do.
I specialise in wedding photographs as well as portrait and formal work. I like to describe my photography as Innovative and contemporary. I do try to keep ahead in our fast moving times and this is really what 4Ever Photos is all about. When people visit the studio they immediately notice the fresh ideas in the albums, wall hangings and presentations.
There are several stages involved with taking wedding photographs. Not only is there the actual taking of the photos but there is preparation work and of course the presentation side of things to consider too.
The customer will make an initial enquiry for prices and to find out what I offer and then I send them out an information pack - if they are interested they will make an appointment to look through the albums of my work and choose what style they would like for their special occasion. This can sometimes take up to two hours, especially if it is for a wedding.
If it is a bridal job I will be in touch with the couple about three weeks before their wedding to finalise the details. It also gives me an opportunity to find out if there is any family politics that I should know about. Sometimes certain family members don't get on and I'm told not to ask them to be photographed together. This saves a lot of hassle and embarrassment on the big day.
On the wedding day itself I go to wherever the bride is getting ready and my husband Sean meets the groom. I like to offer a 'story book' theme to the client. This means that they have the option of having photos taken of them getting ready before they leave for the wedding service.
I direct the bridal party and family and I try to capture the emotion of the day, giving instructions on how to pose and where to stand. I do encourage people to relax and if someone is conscious of the way they look, I will address this and try to make them feel more comfortable by shooting from a more flattering angle.
Everything is captured from the tiny detail of flowers to the sneaky kiss. The style is casual and stylish with an element of fun thrown in to ensure I capture the couple enjoying the day.
Some brides prefer casual photos while others want a mixture of casual and formal. Some even like to think of their big day as a fashion shoot. On most jobs I stay for the `dummy' cutting of the cake but sometimes I am requested to stay until the first dance - it all depends on what the customer wants.
I then go back to the studio and go through the digital photos and select the ones that are most suitable and reference them - this can take between three and seven hours to do.
I put a selection of the photos online and this allows the client to view some of their images while on honeymoon. When the couple returns they are invited to the studio to look at the original, stylish images, which are put onto a slide show. As you can see my job entails long hours but it is well worth it and I enjoy every moment of it
Ulster Star
14/09/2007