Jenny Munro talks to Barbara McConville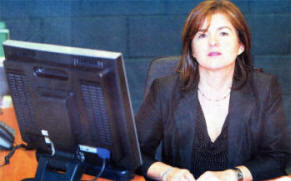 BARBARA McConville, from Hilden, joined Edward Jones in April 2005 after a diverse career history. Although she enjoyed senior management positions, she wanted to be her own boss, controlling her diary. With an interest in financial services she decided to retrain to become a financial advisor and stockbroker and is now based at the Edward Jones office in Bachelors Walk.
I wake up at 6.30am, get ready for work, walk my daughter to school, and arrive at the office by 9am.
I start the day by making calls to clients - a combination of reviewing. portfolios and discussing recent developments in the market. Then I review client folders, see what appointments I have and follow-up anything that needs to be dealt with.
I am looking forward to my full time assistant starting next month, helping support me with the paperwork, which currently takes up a lot of my day I would rather be out meeting people in the community and building up relationships with clients to help them with their financial planning.
Every day is different with my job and this makes it very enjoyable. I am definitely glad of my career change, as in effect I now run my own business, work in my local community and set my own remuneration levels.
Also, being a stockbroker as well as a financial advisor is very unusual in this industry, especially in this area. As well as helping with financial planning I can advise clients of their share options.
After making calls to clients, it's lunchtime, and I might have to meet up with representatives from local businesses. An example is a meeting with a Will writing company. I am not able to help my clients in this area, so it is important to recommend a reputable company that will look after them well, and offer the best options.
When I return to the office I could be investing in ISA's for my clients - making sure they take advantage of the tax-free allowance before the deadline on April 5. In the afternoon I usually have appointments with people who want advice. I deal with concerns such as inheritance tax liability and property buying.
With continually rising house prices it is becoming an increasing problem for more and more people and I advise them on their options.
Many people don't realise how much their estate can amount to once everything is taken into account - house, car, possessions, business interests, savings, shares and jewellery for example. An estate worth over the threshold of £300.000 has a potential inheritance tax liability
Other clients may require my help in pension planning and I assist them in reviewing their current situation. We might discuss the cost benefits of transferring their pension to a stakeholder or Self Invested Personal Pension (SIPP).
At Edward Jones we are looking for the long-term investor, and I find the face-to-face meetings with clients invaluable in helping me understand their needs.
The day flies by l offer evening appointments three times a week, as well as home visits and Saturday morning appointments, which are very popular. If I'm not working late I try to leave around 6pm and head home for dinner with my family
Admittedly I am a bit of a workaholic, though with my branch office administrator starting soon hopefully I can make more time for some social pleasures, such as walking and sports.
Ulster Star
23/03/2007