Jenny Munro talks to Beverley Donn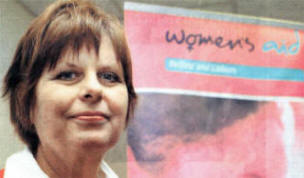 BEVERLEY Donn is a volunteer with the Women's Aid refuge in Lisburn. Originally from South Africa she moved to the UK 12 years ago and now lives in Upper Ballinderry with her husband. She has a long history of working with people in refuges and providing tenancy support for a housing association in England.
In January 2006, after moving to Northern Ireland. Beverley contacted Women's Aid enquiring about becoming a volunteer. Soon after she was enrolled onto a training session and then started helping out at the Lisburn refuge.
Volunteers are a valuable and integral part of Women's Aid staff teams whose main objective is the provision of refuge and emotional support to women and their dependent children suffering from mental or physical abuse within the home.
Normally when I am volunteering I leave my house at 10am and head into Lisburn to go to the refuge. I am an all rounder and very hands on. I don't have set hours and no two days are the same. There are 33 bed spaces and the centre has an open door policy with 24 hour access. This means that each time I arrive there could be new faces. I talk to the team leader and the other staff to find out what needs to be done and then I get to work.
As a volunteer I work alongside paid staff in roles that are distinctive and complementary I carry out receptionist and administrative duties, provide support. accompany women to appointments, assist in playroom activities, befriend. advocate and help out with education and leisure pursuits. As well as this I help provide practical and emotional support to families moving from refuge to independent living.
The refuge offers immediate safety and temporary accommodation to women and their children during times of crisis. The team strives to create a safe and supportive society for women, children and young people affected by domestic violence. The women who seek our help are encouraged to determine their own future, whether this involves returning home or beginning an independent life.
The refuge tries to empower women and as a volunteer I help the women write letters, fill out benefit applications. give them moral support and really help facilitate all aspects of their life. Most of the women's experiences at home have made them lose their confidence and I might have to help them make phone calls or accompany them to the bank or go with them and a police officer to their house to collect their possessions
On a Quiet day I'll be found in the playroom with the children getting to know the mothers and building up trust. We try to make them feel as settled as possible. The women come from all walks of life and people would be very surprised by the number of women in the local area who are victims of mental and physical abuse.
I usually volunteer for 6-7 hours depending on what needs to be done. Some women may be there for one night while others could be there for a few weeks. Seeing them progress is great. There is a very homely atmosphere and I really don't feel like a volunteer. I love volunteering and would encourage others to do it too.
Most women arrive at the refuge in bits and it makes me so proud to see them gradually regain their confidence and be able to do things for themselves. It's when these women gain strength and start to help other women in abusive relationships that particularly touches me.
I would like to become a trained counsellor and this is something I hope to pursue in the not so distant future. I really get a sense of satisfaction from offering my time to Women's Aid.
I spend time with my husband in the evenings and unwind by reading modern psychology and self-help books and chatting to family and friends. Most nights I head to bed at 10.30pm.
Women's Aid Federation Northern Ireland operates a 24 hour domestic violence helpline. The Helpline offers advice, support and crisis intervention to any woman who requires it and will often provide the first opportunity for a woman to talk about what has and is happening to her. The helpline number is 0800 917 1414. If you are interested in volunteering with Belfast and Lisburn Women's Aid please contact Joanne (Volunteer co-ordinator) on 9066 6049 for more information.
Ulster Star
08/06/2007