Jenny Munro talks to Caroline Harper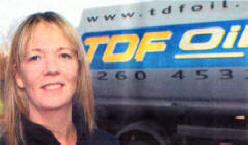 CAROLINE Harper, 34, clerical assistant at TDF Oil - a family owned and operated Independent Home Heating Oil Distributor - locates on the Moira Road.
She lives with her partner Wayne, two sons David and Nathan and nephew Jamie, in Maghaberry.
Caroline has worked for the local company for a year and a half.
I wake up most mornings at 7am, have breakfast and make sure the boys get ready for school on time. They go to different schools. The two older ones make their way to the appropriate bus stops and I take my youngest son Nathan to the local primary School. Then I drive to work.
Normally when I arrive it's straight into action as I grab one of the ringing phones while the office manager, Beverley, deals with a customer on another line.
When the phones quieten down for a few moments and Beverley regains control, I take the opportunity to collect the company's emails. We do a lot of business over our website, which is very popular with the customers. I have to go through all of the internet orders and queries and this takes up quite a bit of time each morning.
Around 11am I have a quick cup of coffee and then head back to work at the computer. One of my main tasks involves a prepay scheme. This provides oil users with a PayPoint swipe card which they can use at lots of local shops and garages to make payments towards their next oil bill. The company PayPoint then send us all of the details of the previous days' transactions electronically. When I receive this I have to update our customer's budgeting account database. The customers love it because it's easy, secure, convenient and they can make a payment of any amount at any time.
Throughout the day the phones ring regularly and the radio system roars with queries from our drivers Gerard, Wayne and Rodney The drivers keep in touch with us to let us know where they are and what deliveries they have made. Often people call us at the last minute to put in an order for oil as they have run out. We try our best to get a lorry out to them as soon as we can. If this is the case the boiler will have to be bled and our drivers will do this.
Outside in the yard there is team who deals with our car wash and cash'n'carry coal customers. Up to four times a week oil tankers arrive and its all go when they do as we have to clear the yard and I let the team know when a tanker needs in. It is always a hectic experience. As well as dealing with people over the phone, many customers drop in to order oil or pay bills. There is always a bit of banter in the office.
We are currently working on a new text system which will let people know when a delivery of oil is on its way and any special offers we are running. I also have to ring the cash and carry and note any price adjustments.
I work flexible hours so I leave early in the afternoon once I have finished the paperwork. I will have a chat with Beverley about any pending orders and then I head off. I might go and get some bits and pieces for dinner. Then I will go back to Maghaberry and collect my son from school.
When I am preparing the dinner my other son and nephew return home and I'll chat to them about their day They get stuck into their homework and I'll tidy up. Wayne comes home and we all sit down to dinner.
The boys go to Tonagh boxing club three nights a week so we have to leave them there and pick them up again. When we get back at around 8.45pm the older boys go out to meet friends for a while and the youngest child chills out before bed. I then have a good chat with Wayne and watch TV.
When I have the time, I enjoy going to the cinema and meeting up for meals with my family in Gilford. I usually head to bed at 11pm after along day.
Ulster Star
05/01/2007