Jenny Munro talks to Elaine Stevenson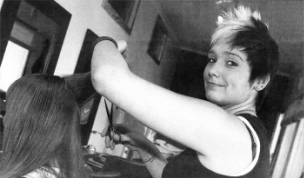 Having worked in a hairdressing salon since the age of 14 and completed NVQ courses in hairdressing at Lisburn College, Elaine who comes from Lisburn, decided to set up her own business with her sister-in-law Louise Stevenson. Both girls are enjoying working for themselves and the challenges that running a business brings.
I wake up at 7.30 and get myself ready before having breakfast and then leaving to go to the salon where I normally arrive by 8.30am. When I get in I listen to the answerphone and return calls if necessary. I turn on all the equipment and appliances and just make sure everything is neat and tidy. I'll make sure the floors are brushed, the towels are clean and folded and the place is ready for the first client arriving. The salon is contemporary and has a lovely atmosphere for the clients to relax in while having their hair done. We put a lot of thought into it before opening up.
Louise and I will discuss the schedule for the day and check the appointment book. While I am the main hair stylist Louise manages the administration side of the business and is responsible for the reception area. She will be starting a hairdressing qualification in September and I also hope to start a junior stylist soon too.
Primarily my job involves cutting, styling and colouring hair, speaking to customers and managing their business with Louise. I have to order equipment and supplies including scissors, combs, hair products, as well as dealing with customers and hair company reps who call in once a month to see what products I need and to update me on any new products available. This means I have to keep an eye on the stock and make a list of everything that will be required for the month ahead.
When a client arrives I will sit them at the dress out section and have a consultation with them to find out what they want done to their hair. It could be a simple blow dry or a new style and colour. The client may have a style or colour in mind so I will give them advice on what
would work best with their skin tone and face shape. This is very important. As the salon is relatively new we are still finding our feet but we have been getting busier as word of mouth is spreading and Louise and I have been busy working on advertising and getting leaflets made to encourage more people to come along. We have also been busy coming up with special offers and discounts to encourage new customers.
Some days are busier than others so when there is a quiet moment in the salon I will work on the accounts or sort out the supplies. I also like to spend time looking at hair magazines and finding out latest styles and trends and I will practice these on family and friends. I am always trying to keep my skills up-to-date so I can offer the clients a top class service. I intend to go on refresher coursers when we expand the stylist team. It is very important to know what is going on in the hair industry and it will be helpful when I start to enter hair competitions further down the line.
One area where Louise and I have been focusing on heavily is catering for bridal parties. This is something I enjoy doing a lot. We give the bridal party champagne and strawberries while they are having their hair done in the salon. We offer discounted rates to the brides and bridesmaids and give vouchers to the bride on her return visit.
The salon is open Tuesday to Saturday 9am - 5pm except on a Thursday when it closes at 8pm. At closing time I'll tidy the salon and make sure the equipment is turned off and then secure the premises. 1 drive home and have dinner with my parents. In my spare time I enjoy swimming and meeting friends. I am not a big fan of TV so I rarely sit down to watch a programme.
As the business is still in it's early stages I am continuously thinking of ways to improve it and how to attract more custom. 1 am enjoying being my own boss and having the support of my family is brilliant. I would encourage anybody else who is keen on setting up their own business to follow it through as it is worth all the hard work and effort.
Ulster Star
27/07/2007