Jenny Munro talks to Gary Morrison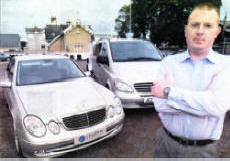 GARY Morrison, 36, originally from Lisburn, runs GMT Chauffeur Services. Based in Dromore he provides a professional chauffeur service across Ireland.
Previously Gary operated a haulage company but found being away from his family so often difficult and decided to diversify into another area of the transport industry that would provide him with more time to spend with his wife Angela and their eight-year-old daughter Emma. He set up the chauffeur business several months ago and is enjoying his new venture.
If I have a job first thing in the morning I set my alarm for 6am, have breakfast and get myself ready for the day ahead. I load up the car or people carrier with a cool box which contains complimentary refreshments for clients who have
booked my services for a whole day. I stop at a local newsagents and buy a selection of newspapers and put them into the back of the vehicle, then I head off to make the first collection. Usually I chauffeur groups of people and I collect them from their own homes. I work out the best routes in advance to save time. Once I arrive at a person's home I load their luggage or equipment if they are perhaps playing golf. into a water tight trailer.
I can transport golfing groups to any of Ireland's fantastic courses or I can drive people to the heart of Dublin's shopping in Grafton Street.
Weddings, formals, concerts, sports are just some of the events people will hire me for. This means no train, no taxis and no fuss.
Some people like to spend the day shopping and then they call me to meet them and take their shopping so they can go for lunch without their purchases. Afterwards they let me know where they are and I go and pick them up and take them home.
I work on a first come first served basis and take bookings throughout the day. I make block bookings which means the client has my undivided attention and I'm not hurrying to get back for another job.
When I set up the business I got in touch with local tourism operators and now I get calls from tourists, especially Americans, who want to sight see in comfort.
When I'm waiting for clients I use the time to keep my paper work up-to-date and I return any missed calls. I sort out my diary and if there are facilities available I wash and hoover the vehicle so it is nice and clean before the return journey.
If I have been working a long shift I go home and tidy the car so it is ready for the next job and hopefully finish for the day and spend time at home. It all really depends on what I've booked in the diary and whether I will be working at night or not.
Evening jobs are mainly taking people to corporate events and if the venue is in Belfast I can home and relax until I have to go and collect them again. Sometimes I'll get a call asking to make a collection earlier or perhaps a bit later. Once I drop them off I head home and go to bed.
I enjoy being able to offer people this service and treat my customers properly. Word of mouth is very important and clients continue to book me because they appreciate the professional service I offer. I enjoy driving and I know the roads well so I am happy at my work and I think it shows.
Ulster Star
26/10/2007