Jenny Munro talks to Graham Crothers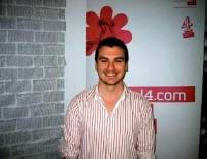 GRAHAM Crothers, 25, is Commissioning Editor for 4TalentNI. Based at Belfast independent production company DoubleBand Films, 4TalentNI is a unique on-line and on-the-ground initiative established by Channel 4 to help support and promote home-grown talent in the Creative Industries.
Graham grew up in Maghaberry but now lives in Belfast. He started his career working as a feature writer for a music magazine and completed both the media and journalism courses at the former Upper Bann Institute before studying at University. After finishing a BBC course he soon took up the position of Commissioning Editor for the Channel 4 website.
I only live 15 minutes from work so I don't usually wake up until around 8am. After breakfast I head to the office an am normally there for 9.30am. The first thing I do is check my emails and prioritise what needs to be done that particular day.
I am responsible for the web content and it is up to me to update and refresh the website as often as possible. There's a TV and film section, a new media, radio and extra zone to keep our users fully informed about the creative talent scene in Northern Ireland.
Throughout the day I upload new features and opportunities that may be useful to our target audience. I am in regular discussion with video, audio and text feature producers about any individuals or trends in the sector that could be suitable for future feature material.
Once a good idea is generated I commission it and then there is usually a two-week turn around period to submit the feature. A photographer will be organised to take images to go with the text features and if a particular image is required I will try to source it myself.
Meetings are a big part of my job and I regularly speak to the 4TNI events coordinator Debbie McGrory to discuss possible events for the future. I am also invited often to give talks about my work with 4TalentNI. Communication and making contacts within the TV, film and new media industry is very important in my line of work.
As well as editing the website content I have to manage and organise the 4TalentNI team, dealing with personnel issues and checking that the producers have received any payments that they are due.
I am usually so busy I don't have a set time for lunch and just grab something when I get a chance. On a quiet day I'll get away from the office at 5.30pm but I do work many evenings and often last minute things come up and I might have to work quite late.
I regularly attend exhibition launches and gigs at night, which are useful for head hunting and building up good media relations. I could be out at an event two or three times a week.
My work as Commissioning Editor keeps me busy and I really enjoy it as it is so varied and it is great to be able to help promote Northern Irish talent.
Ulster Star
02/11/2007