Jenny Munro talks to Irene McCaffrey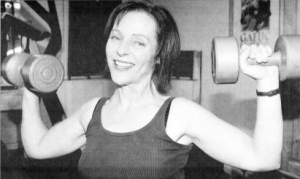 IRENE McCaffrey is a personal trainer based in Moira. Prior to getting married and raising her family, she worked in accountancy. While she has always been interested in sport it was only after her parents both died from cancer that she decided to pursue a career in health and fitness. At 40 she trained to become an aerobics teacher, at 45 she obtained two qualifications in nutrition, at 50 became a Yoga teacher and aged 52 qualified as a personal trainer.
The alarm goes off at 6.30am, then it's up with a bang and off I go. It's handy having my own gym in my house.
I quickly nip in and do my own training - half an hour on the cross trainer and some weights. I am the fittest and healthiest I have ever been and intend to stay that way.
After putting the kettle on I let the dogs out and step outside to see what the day is like. The smell of damp, cold morning air hits you and it is so refreshing. I love the outdoors.
Then I do some housework while my husband makes tea and toast for breakfast.
My first client could be at 9.00am. They meet me at my house and we either train there or at the local park. Depending on their fitness goals we either do 30 minute cardio and weight training or a 30 minute walk or jog. I learn so much from the people I work with and I am always inspired when they achieve their weekly goals.
This is a busy time for fitness professionals and I am no exception.
When assessing potential clients I find out what their goals are for the 12 weeks they will be with me. Most want to lose weight for health reasons and we discuss ways to achieve this. I find out what activities they most enjoy and work out a 12 weeks fitness programme.
I ask them to buy a pedometer and aim to eventually walk 10,000 steps a day. We also discuss diet, and how to change to a healthier eating plan. Not surprisingly people's diets consist of very little vegetables and perhaps one piece of fruit a week and I ask my clients to keep a food diary.
Everyone knows how to lose weight and be healthy - eat less and exercise more. The lack of willpower to follow through is a problem though. This is where I come in. Nothing beats one to one contact and a word of encouragement to help people stay on track. We all appreciate that personal touch.
At 10.30am I hold a two hour weigh-in and circuit class in Lurgan, run by Banbridge and Craigavon Volunteer Group. It is always good to see familiar faces again and it's a wonderful class to run. We have such a laugh at times in between all the getting fit.
I come home for lunch and quickly read my e-mails and reply to any needing answers. Then I get ready for the next client coming in at around 2pm.
At 4pm I pick my son up from the train station. My two older children are away at university. Then when I get back to the house I teach piano lessons.
Somewhere along the way I make the dinner and catch up on all the news with my husband and son. At 7.00pm I have more evening clients or else am rushing out to give a talk on nutrition or motivation to the Woman's Institute or some other women's organisations.
Public speaking is so much fun and of course my passion is encouraging people to reach their optimal health.
I love my work and I believe this is what I was meant to do and it such a good feeling.
For relaxation I read biographies and inspirational books. At 10.30pm I think about going to bed. As I fall asleep I thank God for another opportunity to help people achieve their goals in life.
Ulster Star
02/02/2007