Jenny Munro talks to Jill Tennyson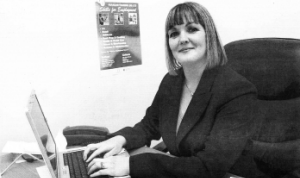 JILL Tennyson, 34, has been the branch manager of Paragon Training for just over two years. She lives in Lisburn with her husband Paul and they have a four-year-old daughter Ellie.
Jill started her career in a bank and worked as a personal banker before moving into the recruitment sector and taking up her current management position.
Paragon Training recently moved to new premises in Bow Street. The firm equips people with the skills required to help them find employment.
I'm normally up at 7am to get myself ready for work and then wake my daughter to get her ready for school. I leave her off at 9am and start work at 9.15am. Every Monday morning I attend a senior management meeting at our Belfast office to discuss strategies and the way forward for the company.
When I arrive back in Lisburn I check my emails and catch up on any messages left for me Then I can start to focus on the week ahead.
My job is to raise the profile of Paragon on what courses we offer so the most important aspect of my job is communication. We have just launched two new programmes.
The first being 'Training for Success', which is targeted at school leavers who want to train in their chosen occupational field and also those in employment who wish to gain the relevant qualification for their sector.
The subject areas Paragon offer are - Business and Administration, I.T, Stores and Warehousing, Retail, Food Preparation, Cooking, Health and Social Care and Childcare Learning and Development.
Our other programme is Work Preparation Programme for lone parents, which aims to build their self esteem and confidence whilst giving them experience in a work placement hopefully leading to employment.
During this programme they get to keep all their existing benefits. They also get a training allowance, travel expenses and childcare expenses paid for them. This is a fantastic opportunity for them and we also offer incentives on sign up and completion.
The other side of the business is to inform employers of the free NVQ training that can be offered to their 16-24 year old full time employees.
This way it saves the employer time and money on training and the employer will also receive a cash bonus when their employee successfully achieves their framework. We also offer training to the over 25's and have a simple affordable payment plan system in place for this.
As you can see my job is very varied and involves liaising with our Training Manager It also involves attending recruitment fairs, working closely with employers in relation to training and placements for our students and also training for their own employees, visiting schools to advise them on training options and assisting with mock interviews, working closely with advisors from the Department of Employment and Learning, assisting students with problems in relation to placements, training or social issues, attending the Lisburn Business Education Partnership meetings and assisting with Lisburn Careers Convention and the overall management of the branch.
I also work with my staff to ensure training is delivered to the highest standards and that paperwork is accurate and ready for inspection purposes
I normally finish at 5.15pm but never stop from when I come in to I go home. The day goes by so quickly. My husband collects Ellie from Nursery and then I'll arrive home.
I have dinner and we spend some quality family time before Ellie goes to bed. Then I tidy up and get organised for the next day.
From time to time I have to study in the evenings as I like to keep myself updated on my line of work and gain more qualifications in this sector myself.
I love being kept busy and I am never bored with the variety of duties and meeting so many new people.
Ulster Star
19/10/2007