Jenny Munro talks to Jonathan Brush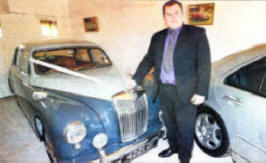 JONATHAN Brush 27 from Lisburn is the owner of Chauffeur Royale, a Wedding and Executive transport company based on the Saintfield Road.
He has a background in this type of business after seven years working as a Limousine Chauffeur for a Belfast based Funeral Director and more recently a locally based Executive Chauffeur Business. He is married to Karen and they are expecting their first child in August.
Being a Chauffeur, getting up times are varied but usually if I am not out in a vehicle I get up around 8.30am, have a quick coffee and be in the office for 9am. I check my emails and my diary to see what I have got on for the day and who I have to contact regarding the business and then plan the schedule for the day ahead.
My day at work is always varied and very different. What you plan at 9am can be totally changed by 9.30am if a client contacts the office about a last minute vehicle booking for later that day. This is what I particularly enjoy - every day is different.
I am responsible for the entire running of the business. I organise every detail from the initial phone call from the client, to eventually sitting behind the wheel of the Mercedes-Benz. I have a few part-time staff that I use regularly in the office and to chauffeur my clients, but I like to do as much of this as I can so I know that it is being done correctly
nce everything is done in the office I then start on the practical part of the business - washing and polishing the cars. All of the vehicles are in pristine condition and are always in the showroom washed and fully valeted as people are always calling to view the cars for their wedding day or some other official occasion.
A popular choice for a wedding car is our 1958 MG Magnette, which is the only wedding car of its kind in Ireland. This car was restored by my father a number of years ago and still boasts its original leather interior.
Other vehicles include a seven seater Landrover which is popular for corporate events and also for private tours. Once everything is cleaned to an exceptional standard it's time for a cup of tea.
Throughout the day of course the phone still rings and can be anything from someone enquiring about wedding cars to the possibility of hiring an executive Coach, which we also cater for.
Around mid-afternoon I check the diary for the following day and make sure staff are informed if they are required for a particular job.
I try to close the office and showroom at 5pm although it does not always happen, as quite often a large part of the business takes place after normal working hours - a joy of the job.
If I am not out working in the evenings I am home shortly after 5pm as my office is beside the house in Lisburn.
In the evenings I have dinner and catch up with Karen before watching a bit of television.
Running the business can be difficult at times but is also hugely rewarding doing it for yourself, especially when the thank-you card arrives in the post after a job commenting positively on the services that we provided on the day.
In my spare time I enjoy socialising with my wife and friends and I am also a keen clay-pigeon shooter, being a member of a local club.
Normally by 11pm I am in bed ready to do it all again the next day
Ulster Star
16/02/2007