Jenny Munro talks to Jonny Smyth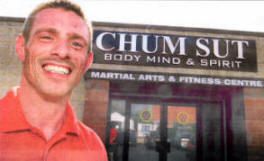 JONNY Smyth, 34, is a personal trainer. Most of his clients are located in Lisburn and the surrounding area. Jonny has always had an interest in health and fitness, so when he was paid off from Short Brothers, where he worked as a team leader, he decided to study gym fitness and qualify as a personal trainer. Once he had completed his training, he set up his business New City Fitness.
The fitness enthusiast, who also has an interest in mixed martial arts, is married to make-up artist wife Helen.
I wake up at 5am each morning and take my two dogs for a walk. I have breakfast and then I load my car with all the equipment that I will need for that day. I check my diary and see what jobs / have scheduled and then I leave to attend my first appointment. I will either meet the clients at their house or at the Chum Sut Centre in Lisburn.
It it is my first time working with someone I will conduct a health check and get the person to answer a questionnaire so I have a good awareness about their diet and background. This first appointment is free of charge as it's basically a way for me to assess physical requirements and to help me design a special work out programme.
Some people will call upon my services to help them lose weight while others will be sports people who are keen to maintain their fitness.
The personal training sessions last one hour and I have bookings early in the morning right through to the evening. Each day really does vary.
I make sure each person I work with understands the programme that I have designed for them and why we are doing certain things.
Then we'll do a warm up for five to ten minutes. If it is a good day I'll suggest training in the garden. There is limited space at people's homes but as long as there is enough room for two people to move about then that should be ok. I do a lot of cardio based work as well as using weights and doing core exercises. Many people are keen to achieve firm stomachs and the core exercises are required for that. Corrective exercise to encourage posture realignment is another area I specialise in. Modern day living often results in people requiring help with their posture and exercise is a great way to improve this.
After an hour we cool down and do some vital stretches. Then I will set some homework for them to do until our next meeting. Some people do prefer to meet me at the gym. The session is much the same except all the equipment is already in place.
Once a session is over and the equipment is packed up and I've finished making notes, I'll check my phone for any missed calls or call people who have left a message regarding booking my services. My phone and diary are essential items.
I give support and advice to my clients any time they need it. Most queries concern diet. Clients can ring me or send me an email and I try to get back to them as soon as I can.
As a mixed martial artist I train for several hours a day myself. I will fit this in between meeting clients. I normally will have a quiet spell around tea time and I'll go home and spend some time with Helen and create programmes for new clients and work on ways to promote the business. Helen is a great help with the marketing side of things. She also likes to keep fit and has an interest in what I do.
Being a personal trainer is very rewarding when people who are not particularly fit to begin with, start to take an interest in their health and enjoy exercising. It's a good feeling to see this and I would encourage anyone interested to give it a go.
Ulster Star
17/08/2007