Jenny Munro talks to Julie Allen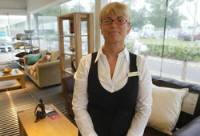 JULIE Allen, 41, oversees the management operations of the new Home store, which launched last week at Marks and Spencer, Sprucefield.
She has been with the company at various locations for 23 years but has been based locally for five years, working as a commercial manager.
Julie started her career with Marks and Spencer in Belfast as a temporary seasonal worker but she liked it so much and was good at the job that she soon climbed the career ladder and now enjoys her challenging management position.
I have to get up early to beat the traffic on my way to work - I live in Bangor and if I don't time it right the traffic is a nightmare. This means I have a 6am start. I leave my house at 7.10am and normally reach Sprucefield at 8.15am.
Each morning the first thing I do is to pick up any documentation left for me from the night before. I see how the department traded during the previous night and note any comments made by the duty manager.
Then I take a look at the shop floor and make sure it is ready for trade. Stock is put out in the night time shift so during my walk about I ensure everything is in its correct place. I talk to the section manager and then hold a brief review meeting with the management team to discuss the store's performance and prioritise key objectives - this helps set the scene for me day.
Usually on a Monday morning I attend a store meeting with the general manager where we discuss the previous week's performance. We are always planning ahead and reviewing things like our customer service and product range. It is essential the staff is fully briefed on what has to be done and what is going on in store in order for us to be able to deliver an excellent service to the customers.
My main priority is commercial sales and meeting targets set for the department.
The Home store is a destination shop where people can come along and kit out their home from top to bottom. I am constantly reviewing the sales figures to help make sure the store gets bigger and better. If a certain range is outselling another - I want to know why in order to expand on it and improve on other areas. No two days are really the same on the shop floor where I spend 90% of my time. I have a designated phone so staff and customers can be put through to my extension if they have any queries. As well as the day-to-day running of the Home store department and making sure we are meeting the set sales targets and constantly improving our service, I like to be aware of staff issues.
Planning ahead and being organised keeps me busy It is essential that I know what events are coming up and what is happening, as well as being aware of changes that have to be made to the shop layout. As a company we listen to the customers and try to reflect their wishes in our stores.
The day just seems to fly by and before I know it's time to go. At 6pm I usually finish for the day and before leaving I make sure I speak to the duty manager. Then I head home and look forward to relaxing. When I get into the house I change into lounge wear and have my dinner. I like to go to the gym and unwind by going for walks. In my spare time I catch up with my friends and family.
I enjoy my job because it is a challenge. It is demanding but the variety is great and the company provides an excellent working environment.
Ulster Star
31/08/2007