Jenny Munro talks to Karen Elliott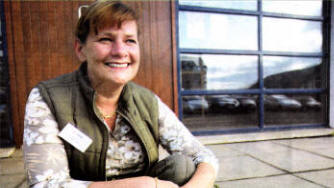 KAREN Elliott, 45, owns Starburst Theatre School and recently set up classes at Trinity Methodist Church in Lisburn.
Raised in Scotland she developed an interest in theatre when she went to the Edinburgh festival at the age of nine.
Before moving to Northern Ireland 10 years ago, Karen taught piano and singing at Gordonstoun School. When her youngest son went off to university last year she decided that she wanted to put her experience to good use and set up her own theatre school in Antrim.
After an excellent response and numerous requests for the school to come to Lisburn, she decided to expand her business to provide local children with an opportunity to develop their theatrical skills.
A typical day in my life throughout the week is non-stop. I normally wake up at 7am, have a coffee and breakfast, do housework and then get stuck into my work. In the mornings I like to sort out the students' application forms and make sure I respond to any enquiries. I order uniforms for new members and if I have received any previous orders I then have to go and get the Starburst' logo printed onto the clothing. I like to prepare the evening meal in the morning as well so when I get home in the evening I don't have too much to do.
Classes are held on Saturdays but there is quite a lot of preparation to be done throughout the week. I liaise with agents and find out what auditions are coming up, make sure I have the correct copyright licences for future productions, keep up with the general administration involved with running a business as well as liaising with the teachers and volunteers involved with the school. All the teachers, bar myself, are working performers. In between running about getting things ready for the theatre classes I also take private piano lessons.
On a Saturday the classes for the young children start at 10am and the older students arrive at the church hall on the Knockmore Road at 1pm. The students are split up into different teams ranging from the age of five - 23.
There is a short registration period followed by a fun warm up routine. This is a confidence building session, which is very important and helps bring the students together.
Classes take place once a week for thirty weeks divided into three terms, running like the normal school year. There are two 40 minute classes in rotation, followed by a break and then two furthermore classes.
The classes include singing, dance, drama and stageworks. The students are provided with an environment with the facilities, materials and guidance that will help them to develop their skills, interests, ideas and opinions and to understand the theatre world.
They are also encouraged to express themselves confidently and appropriately with other students and with a live audience, reflect on and appreciate their own and others work, develop an appreciation of the performing arts and understand the need for self-discipline and commitment in order to achieve and excel.
The feedback so far from the members has been brilliant and it's great to see the students smiling and really having a good time.
Two yearly shows, chosen by the students themselves, are planned and the students get the opportunity to be creative in script writing, choreography, design of costume, makeup, lighting and sound effects, and in the selection of props and their hard work is rewarded with certificates of achievement at the end of each school year.
The students finish after three hours and volunteers help to tidy the rooms. Once everything is sorted out we all leave to go home.
In my spare time I enjoy cooking for friends and family and I am a keen skier, golfer and enjoy playing bridge.
I am delighted with the success of the theatre school so far and I really hope more young people from the Lisburn area will come along and enjoy what Starburst has to offer.
For further information contact Karen on 9442 8378.
Ulster Star
27/04/2007