Jenny Munro talks to Kevin Madden and Conleth Donnelly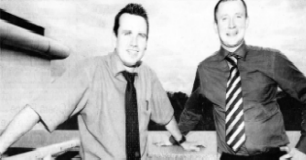 KEVIN Madden and Conleth Donnelly are Community Sports Development Officers for Lisburn City Council.
Kevin. 29 is originally from Portglenone and took up his current post a year and a half ago. He is also a Gaelic football coach, having played at Inter-County Senior Level for 10 years with Antrim and winning two Railway Cup medals for Ulster in 2000 and 2004.
Conleth, 31, from Cookstown has an extensive background in sports and leisure and has been working locally for four years. Both men have similar roles but focus on different areas within the Council region.
As Sports Development Officers both Kevin and Conleth work with all sections of the community across the city of Lisburn, in an effort to promote sporting opportunities throughout all communities, clubs and organisations.
Kevin: I reach the office at the Lagan Valley Island Centre just before 9am. I normally check my emails and look at my diary to check the appointments for that day Each day is varied with a lot of time spent out of the office liaising with community groups, sports clubs, schools and other voluntary and statutory agencies.
The Council's Sports Development Section is responsible for the provision and promotion of a wide variety of sporting opportunities across the City. One such key responsibility of a CSDO
(Community Sports Development Officer) like myself is helping to facilitate people in the local community who want to deliver their own sports programmes. We offer support to groups who require funding to organise events, purchase equipment, or even build a new facility. This often involves drawing up a Sports Development Plan to help an organisation with their application requesting funding. Through creating local partnerships we endeavour to provide sports training, courses and physical activity for local people.
I try to help build up the capacity of local clubs and groups by ensuring that they have necessary people qualified with all their policies and procedures in place. Working closely with other agencies, I work in partnership to deliver projects that can tackle issues such as anti-social behaviour, sectarianism, healthy eating and mental health, through sport and physical activity. One of my current programmes which tackles some of these issues is 'Midnight Soccer', catering for up 120 teenagers from the Colin Area on a Friday night in the Brook Activity Centre. Recently I have been busy working on the production of a `Summer In The City' wall planner which will give parents an idea of what activities are on during the summer for their children to attend.
I am regularly out of the office meeting with groups to discuss their ideas. giving guidance and some much needed financial assistance. We don't just focus on the mainstream sports - there is a broad range of activities covered such as Hip-Hop Dance for girls, Mother and Toddler's classes, archery and martial arts.
Every other week I meet up with my boss and the rest of the Sport's Development Team to discuss projects we are working on and any events that are in the pipeline. My typical day is 9-5 but I often have to attend meetings or sports events in the evenings. In my spare time I coach Gaelic Football, play some golf, practice my culinary skills.
Conleth: I get into the office just before 9am and check my email and telephone messages. I look at my diary and 'to do list' and prepare for the day ahead.
Like Kevin I have a varied day I facilitate meetings. work on local sporting projects and help with funding applications.
My job tends to be seasonal. During the summer and at Easter time I am busy with coaching programmes. I might be asked to find a coach to help out with a sports group or I could be giving advice to organisations on how to go about applying for financial assistance. Some days I might not be in the office at all.
Every so often I have to attend conferences and then relay the information back to the clubs and societies.
I report to my line manager giving him updates and regularly speak with Kevin and the other members from the sports unit. Both Kevin and I have to devise a personal work programme - this is a won plan for the year ahead and we provide regular updates on its progress.
One project I deal with is the Midnight Soccer Scheme, which aims to take children off the streets at night and get involved in sport. I work on coordinating and promoting the scheme ensuring that it is well attended and beneficial to the community.
Some other aspects of my job include speaking to people with ideas for sport: projects, helping clubs develop, organising coaches and leaders to go on course: and get further qualifications. The Sport: Development Section also helps facilitate numerous training opportunities for sport: clubs in a wide variety of areas including child protection, first-aid, club administration and coaching development.
I regularly do a lot of work concerning after school programmes. I organise the& programmes from start to finish. This includes marketing, monitoring, coaching and organising venues. If an event such as the Lisburn half marathon or any other sporting functions organised by the Council is taking place I'll work in the evening alongside Kevin, making sure everything runs smoothly and according to plan.
As well as coaching Gaelic in the evening: I like to spend time with my wife and four children. The three youngest are aged three and under so by 10.30pm I am well and truly ready for my bed.
Ulster Star
18/05/2007