Jenny Munro talks to Laurie Van Jonsson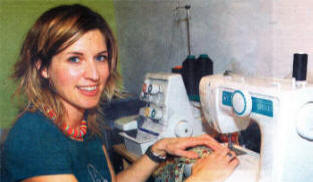 LAURIE Van Jonsson, 28. is a fashion designer based in Dunmurry. She runs her own business called Vanjo lingerie.
Originally from Nottingham, she studied fashion at De Montfort University. specialising in contour and lingerie. After completing her degree Laurie spent three years designing lingerie and swimwear for top high street stores and then decided she would like to travel. She successfully launched her own range of swimwear in Thailand where she identified a gap in the retail market for lingerie for the fuller figured female. The designer then travelled around the world designing and selling swimwear and T-shirts before moving to Northern Ireland to be with her partner.
Laurie was recently recognised by Advantage NI and Invest Northern Ireland for being one of the most successful and inspirational young entrepreneurs in the Lisburn area.
I wake most mornings at 7.30am. have breakfast and get myself ready I work from home so I normally go into my office between 8.15 and 8.30am. I find that I get more work done in the morning.
I check for new emails and respond to enquiries placed on my website and maybe sort out and wrap any items ordered from customers online. Once these are ready I arrange for a courier to come and collect them.
I have customers all over the globe and I supply various stockists who email me early in the week with stock figures and what items they require. I'll sort this out and get it sent off to them as soon as possible.
By mid morning I start to look at swatches of fabric sent to me in the post and I might sketch some new designs or jot down ideas. I have already completed the spring/summer '08 collection and have begun working on the autumn `08 range. l keep up with the latest trends by going to London several times a year to see what is new in the fashion world and I also make contact with buyers. I design the garments, source the materials and choose accessories and then send off a sample with the pattern, and accessories, to a UK manufacturer who will send it back to me fully costed. Then, if it is cost effective, I place an order, which usually takes between four to six weeks to arrive.
When it reaches me I examine it and add the swing tickets and draw up guideline prices for the shops who will be selling them.
To be honest, Vanjo was born out of frustration. As a 30 E I dreaded the thankless task of shopping to find a bra that fitted. without compromising on style. l have made my female range funky with a slightly retro twist. which is available in a range of sizes and is environmentally friendly using stock fabric and trims to create unique designs. It is a label for all the lucky ladies who are proud owners of bigger busts and small backs.
My designs are inspired by vintage prints and delicate trims, with an individuality that shines through and combines fun colour and prints, which offer fantastic shapes and unique variety to all the ranges.
Where possible the ranges are made from stock (or leftover) fabric or trims from cloth manufacturers - creating a use for material that would normally be out into landfill sites. destroying the environment. It also means that some of the ranges are small - meaning very few people will have the same design.
I also design T-shirts and men's trunks. which are all printed locally, with there being only 50 printed of each style. across the sizes. so each collection is exclusive. This is to try and move away from disposable fashion. creating an awareness of its impact on the environment.
I usually don't finish working until 7pm. I like to work on the accounts and sort out invoices and any more enquiries that might have come through. I also cut out pictures from magazines and maybe do more sketches.
I have dinner with my boyfriend. he is a chef so I don't have much cooking to do. I go for a run to help me unwind - working at home all day makes me want to get out in the fresh air as much as I can.
I catch up with friends and family and like socialising in the evenings. I am always looking for inspiration for designs when I am out and about and I love coming up with new ideas.
Running a business keeps me busy but 1 am delighted that I can help women embrace their curves, and enjoy wearing fabulous, trendy and well-designed underwear that actually fits. For more information visit www.vanjo.co.uk
Ulster Star
22/06/2007