Jenny Monroe speaks to Dr Lizzy Pinkerton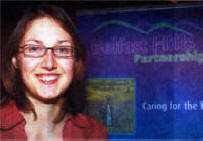 DR LIZZY Pinkerton, 27, is the Projects Officer for the Belfast Hills Partnership (BHP) - an independent charity, which seeks to improve how the hills are managed, based at Colin Glen Forest Park.
Lizzy developed a passion for the environment and wildlife at a young age and has a BSc degree in Environmental Biology and a PhD in Agronomy. Before joining BHP two years ago, she did voluntary work in Africa, helping to equip people there with practical skills and giving agricultural and farming advice. She is also a trained educational counsellor.
I am normally at my office at the Colin Glen Forest Park by 8.30am. I turn my computer on and check for new emails and I look at my diary and plan what has to be done that day
My job includes; organising events across the hills, producing walking maps, events leaflets, newsletters and various other literature for the public, helping recruit and run volunteering events, looking at relevant planning applications, working with the local communities, looking at access issues, managing biodiversity projects, working with site managers, attending shows and displays. No two weeks are ever the same. I could be out doing a site check or in my office preparing for a meeting. I am heavily involved with promoting and raising awareness of BHP. Too many people live near the hills but have never been up to see them and I am trying to encourage them to get motivated and explore what is on their own doorstep. There really is an incredible range of wildlife and the sights are amazing.
The Partnership is unique in containing a broad range of groups and it is made up of representatives from farming and landowning, community, environmental and recreational bodies who all work together for the Belfast Hills.
I regularly meet with our partners including local councils, government departments, community groups, nature conservation organisations and businesses committed to caring for the hills. I write reports and give regular updates an make sure all the projects are running smoothly. I do spend a lot of time on the hills, sorting out problems and meeting contractors and making sure jobs are properly signed off.
At lunch time I normally go for a walk and chat to people front the Colin Glen Trust. When I'm in the office I might check out the latest planning applications for the area, update the website or speak to volunteers who are keen to help us out. I am normally very busy but I really do enjoy it. This is an important project and I am glad to be involved with it. These are our hills and heritage and we must appreciate what we have got - the hills must be looked after and the wildlife protected.
I head home to Ballyclare at 4.30pm, have dinner and relax. In my spare time I enjoy going out to my workshop and doing some woodturning - to create wooden objects. I have been busy with this as I am making Christmas presents. I like to spend time with my boyfriend Andy and we both enjoy rockclimbing and cycling.
Most work nights I am in bed by 10.30pm and read until after 11pm.
Ulster Star
23/11/2007