Jenny Munro talks to Lynne McAllister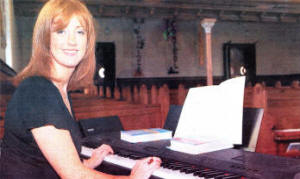 LYNNE McAllister, 42, is a vocal coach and runs the McAllister Vocal and Drama Academy with her sister Wendy, a drama teacher.
The classically trained singer lives in Waringstown with her husband Brian. After studying business management at university Lynne, who developed a passion for singing at a young age, decided to embrace her talent and went to London to train with top vocal coaches. When she returned to Northern Ireland she embarked on a career in the Civil Service but continued to sing with amateur operatic groups and became a soloist for the Salvation Army as well as supporting the well known singer Peter Corry on numerous occasions.
A year and a half ago she decided to take a leap of faith and formed `The Leading Ladies' - a collaboration of four leading vocalists from Northern Ireland - with her friends. Classically trained, stylish and sophisticated, the girls have performed individually in some of the country's major theatres including the Grand Opera House, Belfast Waterfront Hall and the National Concert Hall, Dublin. winning the Irish Musical Societies coveted award for Best Female Singer three times between them.
Blending fresh arrangements of swing and jazz with old favourites reminiscent of the Andrew Sisters, they also perform well known hits from musical theatre, opera and contemporary classics.
No two days in my week are ever the same. Some days are hectic while others are more relaxed.
If I am not coaching at schools I spend the morning doing preparation work - this involves sourcing music, organising a good accompanist to play a piece that my students will be examined on and then burning the music onto discs.
I write a lot of letters, carry out administration, enter students for exams, keep the books up to date and do any necessary banking for my business. As well as this I have to attend meetings with event managers and promoters and I maintain The Leading Ladies' website.
The Vocal and Drama Academy operates on a Wednesday evening in the hall of the church that I am a member of - Seymour Street Methodist. The first class starts at 3.45pm but before the pupils arrive. myself and Wendy will get ourselves organised.
We plan well ahead so that we know what will be happening during each session. The classes last half an hour so my mum provides tea and coffee for the parents who wait for their children downstairs.
Most of the classes have 10 students and they are aged between six and 10 but I do coach older people on an individual basis too. It is very hard to work with a big group so I like to keep the classes small.
There will be children of all levels of ability and talent and my job is to train their voices and build their confidence as well. First of all we do a warm up, which includes fun breathing exercises and helps the children understand why good
breathing control is very important for singers and performers. Wendy and I take it week about spending more time on either drama or the vocal side of things.
The children are taught new songs and we help them hit the right notes. Wendy does primary movements with the pupils and it really is a major workout - well for us adults. It is important that performers trust each other on stage so we do a lot of improvisation work. After this we cool down. The next class is held at 4.45pm but in between the two I take a private lesson.
My evenings are usually very busy. If I'm not coaching people at my house. I'm performing with the group or at my Church drama group. When l do have spare time I like to relax with Brian and wind down. I love catching up with my friends and family too. I really enjoy working as a vocal coach and being able to help others with something I'm very passionate about.
The Leading Ladies Website https://www.leadingladies.co.uk/favicon.ico
Ulster Star
07/09/2007