Jenny Munro talks to Martin Rimmer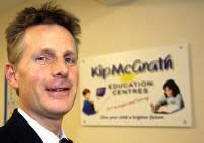 MARTIN Rimmer, 42, and his wife Clare recently opened up a new style education centre in Lisburn's Market Square which aims to increase children's self esteem and confidence as well as their academic performance.
The couple, who have two young daughters, married in 2003 after meeting when they were training at the University of Strathclyde in Glasgow. Clare. who is from Belfast and attended Victoria College. always spoke highly of the quality education system in Northern Ireland, so the pair decided to combine their skills as teachers with their dream of running their own business
The business is one of a chain of extra curricular Kip McGrath Education Centres, which originated in Australia. The Lisburn centre is the second to open in Northern Ireland, following the success of the first centre in Bangor.
After visiting the Bangor centre, Martin and Clare were impressed by the motivating. relaxed and positive environment in which children were learning and decided that Lisburn was the ideal location to set up their own tutoring centre to offer children in the this area the same excellent opportunities.
I am awake most mornings at 7am to help my wife Clare with our children Ella. 3. and Lily. 5 weeks.
Clare is currently on maternity leave and is concentrating on the administration side of the business until she returns to share the teaching sessions with me. I normally leave my home in Magheralin before midday and travel to Lisburn to open the office up. 1 check the post, listen to the answer phone and return calls. We are offering free assessments so I regularly take bookings from parents who are keen to enrol their children. I use this time to make links with local business and sort advertising out too.
We provide tutoring to 6-16 year olds in Maths and English. The first of three sessions begins at 3.40pm and lasts 80 minutes. As the pressure is on for children to achieve good exam results, more parents are looking towards private tutoring to set their children on the way to academic success.
There are no more than five students per class and this allows you to really focus on all your teaching skills. The children coming to the centre are given an individual work plan involving written and computer activities based on the results of an in depth assessment designed to highlight the gaps in their knowledge.
The centre aims to get children up to the level they should be at as quickly as they can manage it. Some pupils also attend for extension work and extra revision for exams and re-sits.
It is not like school - it is a much more relaxed environment and the children can even call us by our christian names. Teaching in small groups helps the children feel more comfortable because they can develop as independent learners.
At the same time it is less threatening for a student to be given space to process new learning without teacher involvement in the knowledge that they have the security of constant help.
After the class is finished I speak to parents and give them a weekly update on their children's progress and then I'll prepare for the next session. As the intake increases we hope to expand the business and employ more teachers.
I finish teaching at 8pm and then return any calls from people interested in enrolling their children. After tidying up I head home and have dinner and say goodnight to the girls.
In my spare time I enjoy spending time with my family, going for walks and eating out in good seafood bars.
I am delighted that the business is going well in Lisburn. To see children succeeding because of your efforts is why leaving the classroom to run the centre was an attractive proposition.
Ulster Star
21/09/2007