Jenny Munro talks to Peter Martin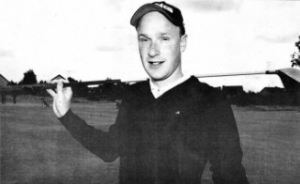 PROFESSIONAL golfer Peter Martin, 30, was recently appointed Director of golf at Colin Valley Golf complex near Dunmurry. He lives in Finaghy with his wife Clara and two sons Aaron, 9 and Patrick, 2. The local sportsman played golf as a young child and by 15 he was representing Ulster and Ireland. He was an Irish International player for over 10 years and at the age of 26 joined the Professional Golfers Association (PGA). In 2006 Peter became a PGA instructor. This year he played in the Irish Open in Limerick. Qualification to the Irish Open is granted to the top eight golfers in the PGA Irish Region. Peter shares space on the same trophy as the great Jose Maria Olazabal, both being past winners of the European Nations Cup. He will now show young amateurs how it's done with the launch of his Riverside Golf Academy this summer and is looking forward to the opening of the new driving range.
I start work at 9am. As Director of golf I have to make sure everything related to the golf course and the academy is in good order and running smoothly.
I have been busy preparing for the opening of Riverside Driving Range and Golf Academy at the complex. Children can come along and learn how to play golf under the guidance of professional golfers. The academy has joined forces with Junior Golf Ireland - a government funded organisation - to make junior golf available to children.
If I am not out checking the course, I will be instructing the junior golfers or putting the finishing touches to the new driving range, which opens next month. The driving range will consist of 22 high specification bays and will have a dedicated 'swing room' to allow users to practice and improve their golf swing through video analysis. There will be a new reception and a new entrance on the Old Golf Course Road for the new driving range facility and all of this has taken a lot of time to plan. As the schools are now closed there are quite a number of children, from all sectors of the community, who have enrolled with the academy The young golfers are given step by step guidance, which they will progress through, beginning with the basic rules and regulations moving on to golf skills workshops by professional golfers.
It's great to see so many young people interested in a sport that I enjoy so much. Golf has really become very popular with young people.
When I'm not instructing I'll be at meetings trying to forge links with different community groups and youth clubs as well as liaising with local sports development officers to ensure the wider community is aware of the academy and what we offer at Colin Valley. Getting sponsors on board with the academy has been a big part of my job too.
As well as overseeing the course maintenance I work closely with the staff at the complex and keep-up-to-date with everything that is going on. lam in regular contact with the management and marketing teams.
Other aspects to my job include looking at tenders for new equipment, making sure the site is properly drained, organising after school clubs and arranging coaching sessions with schools.
Running the academy and making sure everything is in place for the driving range is keeping me very busy at the moment. It's very challenging but worth all the hard work. Presently I work 9-5pm but when the driving range is open I guess I will be working much longer hours.
I am used to travelling the world playing golf and being away from my family for long periods of time so it is really lovely to now be in a position where I can go home each night and see my wife and children and spend quality time with them.
After dinner I like to relax with my family. This is one of the main reasons why I jumped at the chance of becoming Director of Golf. It was too good an opportunity to refuse. Being able to teach others how to play golf is brilliant. I now have the time to take my eldest son out onto the course and he seems to like it. I really enjoy what I do.
For more information on the Riverside Golf Academy contact Colin Glen Trust on 9061 4115.7
Ulster Star
06/07/2007