Jenny Munro speaks to Philip Parr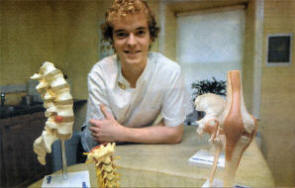 PHILIP Parr, 23, is a chartered Physiotherapist with Blackstone Physiotherapy and Sports Injury Clinic, based in Moira.
He lives in Lisburn and is looking forward to moving in September 2008 to Dromore with his fiancé Joanne. Philip qualified from the University of Ulster in 2006 and has since developed a keen interest in Sports Medicine and has gained invaluable experience working with Wallace High School rugby team - he is a former pupil of the school.
The clinic was set up in 1999 from which time it has continued to expand and is one of the most rapidly developing private physiotherapy clinics in Northern Ireland.
I wake up at 7pm. grab some toast and drive to work and am usually there at 7.50am. I set up the computer in my office, check the schedule and prepare the treatment rooms for the first patients who start arriving at 8.40am. Occasionally there might be a patient to treat at 8am.
Patients come to us with pain which may have resulted from a sports injury or trauma or perhaps the pain may have come on gradually due to poor posture.
They are given a comprehensive assessment and an individual programme of treatment is started. This may include joint and soft tissue manipulation, electrotherapy (for example. ultrasound), traction and acupuncture.
An important part of the rehabilitation is exercise and advice regarding correct posture. Core stability (pilates) is a major part of our rehabilitation here at Blackstone.
As well as patient appointments we run classes as well. This summer we ran a 'good food, good fitness' programme concentrating on nutrition and fitness. In a class of 12 the total weight loss in eight weeks was in excess of seven stone, which is remarkable.
We also run pilates classes and my recent training has included ergonomic assessment, acupuncture and MBT Training (Masai Barefoot Technology). This is a range of footwear that has a positive affect on the whole body. The multi-layered soles make your body work harder to maintain balance during day to day life. Wearing MBTs helps ensure posture is correct by engaging core muscles and returning balance to the body People often call to make an appointment to get advice on the MBTs and I do fittings.
I work with the senior rugby squad at Wallace High School and any teachers who are falling apart. I go to the matches at the weekend and attend training sessions during the week to help any of the team who have knocks and bruises from the weekend matches. This is something I really enjoy doing.
I liaise regularly with the clinic staff and the Practice Principal Kay McLorn. No two days are really ever the same but I do get a break at lunch at 1pm and if I'm working late evenings I will have a tea break at 5pm.
Twice a week I work until 9pm to cater for the people who work late and can't get in to see us during the day
When I finish for the day I head home and don my apron to whip up some culinary delights for myself and my fiancé. We recently bought a house in Dromore so most of our spare time is spent decorating and painting.
I am a big sports enthusiast and love watching and participating in sports. In the summer I play for Derriaghy Cricket Club.
My job is physical and I'm on my feet all day so by midnight I am ready to sleep.
Ulster Star
07/12/2007