Jenny Munro talks to Roy Kemp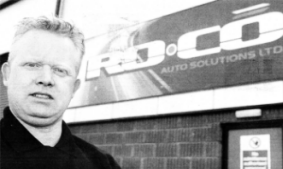 LISBURN man Roy Kemp, 38, owns Ro-co Auto Solutions, a vehicle maintenance and repair business located at Lissue Industrial Estate West off the Moira Road.
Roy worked for NIE in the transport department for 18 years before setting up his own business last January. He has been fascinated by mechanics from a young age and liked helping his father, who was a mechanic.
I wake up at 7am and help get the children organised. If my wife is working night shifts I take the children to school before going to open the garage up at 8.30am. When I get into work I set everything up and then have a cup of coffee before looking in the diary and seeing what has to be done that particular day
As well as actually repairing the vehicles also have the day-to-day running of the business to think about too - this includes ordering parts, speaking to suppliers, finding out the best deals, working on the accounts as well as actually repairing the vehicles.
I am gradually building up a good customer base and word of mouth is certainly helping too which is great. I have now established several standing orders with large companies and this is brilliant and makes the hard work I have put into establishing the business worth it.
Most people assume that garages are dirty, oily places but this isn't the case in my situation. My business premises are clean and tidy and the reception area is second to none. I am very proud of this and I think the customers appreciate the nice surroundings too when they pay us a visit.
I prioritise the vehicles and then start working on them. A typical service for the average vehicle normally takes around an hour and a half to do. Other work such as PSVs and MOT preparations, take longer to complete and a job such a fitting a clutch into a lorry might take all day.
Some days I might have to go and collect parts if I need them urgently and can't wait for a delivery, but most of the time I am based in the workshop.
Once I have finished repairing a vehicle it is then washed and given a mini-valet. It's more like a dealership service. I then have to do the paperwork and sign the job off.
I have an auto-data programme installed in the computers at work and this is a great help. It provides me with 99% of the information I need for technical queries and I can type in the make, model of a vehicle and what needs to be done and the system provides me with a standard time allocation for the job and a basic price. This means that I am not plucking a figure out of my head and the customer can be assured of continuity in pricing. I can also work out what parts are required and then produce an invoice, which includes labour, parts, VAT and a final price.
Work is really picking up and to be honest I could do with another pair of hands about the place. The work is generally spread out over the week but I never like to let people down so I try to fit in any last minute jobs and don't mind staying a bit later to get it done.
I normally close up at 5.30pm but some evenings I could be at work until 7pm. I am amazed by how quickly word has spread about he business.
When I finish I head home.
If my wife is at work I'll make the dinner. I like to chat to the children and find out how their day has been. With the lighter nights now I might go for a walk or potter about the house and garden doing a bit of DIY I try to relax but running your own business means you can't completely switch off and often think about what has to be done the next day
Ulster Star
06/04/2007