Jenny Munro talks to Russell McQuillan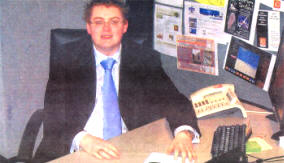 RUSSELL McQuillan, 23, lives in Maghaberry. Originally from Lisburn he is now one of the Directors of Co-Net - a web and graphic design company based in Belfast.
With a background in IT and having previously managed a mobile phone shop for four years, Russell decided he would prefer to work for himself, and set up Co-Net with his business partner Christopher McGuicken, last year.
He is engaged to Lyndsey and they plan to get married later this year.
I get up at lam, have a quick breakfast and cup of coffee before heading out the door. Normally I am at the office for 8am. I check the e-mails and orders and see what appointments I have on, and then begin to plan the day ahead.
My average day at work is varied. My main responsibility is to look after the company's finances and payroll as well as drumming up business, and visiting customers' premises. I spend a lot of my time speaking to clients on the phone and setting up meetings.
We offer a full in house design service, which includes web design and hosting, professional e-mail service, full graphic design service including, logo creation, business cards. letterheads. compliment slips, brochures and promotional DVDs.
There are two in-house graphic designers and I liase with them on a regular basis as a way of letting them know what work has to be done and what the deadlines are. Once I know what our clients want then I have to relay this back to the design team. Together myself and Chris plan the designers' day and get daily updates on how they are getting on with any graphic and web jobs we are working on. I will also speak with Chris to find out what he is working on.
There are regular brain storming sessions and if we are putting together a package for a potential client the team works very closely together in order to make sure we have something that the client really likes.
This will then be presented in a special meeting with the prospective customer. We initially work out the time scale and price involved. I will sit down with the client and extract as much information from them as possible on what they want us to design for them. This takes the burden away from them.
A lot of businesses don't have the time to write up everything they want so our team will liase with the key members of staff and get all the information required to design a web page or whatever else the client has in mind.
A customer may first ask us to set up a web page but then once they see what else we can do, we usually end up designing logos, brochures and stationery for them as well. We also can set up computer systems if a firm requires this service.
The designers then get to work. With a web design, if it is a small job, it could be ready within a week but if it is demanding it could take up to eight weeks - depending what work is required.
Once the designers have finished a web design the client is given a week to check it out and make note of any modifications they would like. Then with their approval the web site will be published.
We also work closely with a partner company called City Office. who supply multi-functional print machines. We have regular contact with the staff at City Office as often we go in with them on deals. Depending on where I am in the province I am usually at home around 6.30pm. I have dinner and catch up with Lyndsey and then watch TV.
Some evenings I have to draw up quotes for customers. Running a business can be stressful but it is also very rewarding. In my spare time I love driving. I like nothing more than to get into the car, relax and listen to music. I am a leader at 1st Ballymacash scout group. um currently working on my Queen Scout award, the highest award in scouting! Most week nights I go to bed around 11pm and get some rest before the start of another hectic day.
Ulster Star
26/01/2007