Jenny Munro talks to Dr Scott Mackey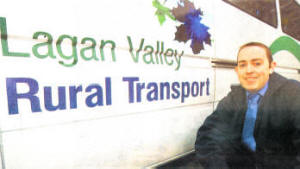 Dr Scott Mackey is Transport Manager/Project Officer of Lagan Valley Rural Transport (LVRT). He is married to Donna and lives in Dromore.
Scott started working at LVRT in April 2006. Before this he worked as a Transport Researcher at the Transport and Road Assessment Centre.
After completing his PhD in 2005, he was one of three researchers who undertook a study into Safer Journeys to School. The report recommended stopping standing on school buses, an end to the three-for-two seating rule and the implementation of seat-belts. As a result, in September 2006, the Minister, Maria Eagle announced funding to enable this to happen.
Lagan Valley Rural Transport is one of 19 Rural Community Transport Partnerships in Northern Ireland. The partnerships are set up under the DRD's Rural Transport Fund and part funded by the European Union Programme for Peace and Reconciliation, administered by Lisburn Partnership. All of its services are designed to ensure that people can retain their independence and participate in their local community.
One day is rarely the same as another. I normally arrive in the office, situated in Bachelors Walk, shortly after 8.30am. On my way in I leave Donna off at her work. The first task usually involves liaising with Mel James, the Administrator, regarding the jobs for the day and tasking the drivers before they set off. I then prioritise my tasks accordingly
I usually spend quite a lot of time in discussion with our team of drivers about jobs and particular requirements for passengers. We try to get all the work fitted in to ensure the most effective use of our three vehicles and also to ensure all bases are covered.
We provide an accessible, reliable, safe, comfortable and high quality transport service to the people living and working in the rural Lagan Valley area to improve their quality of life and reduce social isolation.
The door-to-door service provides accessible transport for individuals living in the rural area to access local services such as schools, post offices, health centres, hospitals and many other social activities.
I co-ordinate the operation of the partnership and it is my job to ensure the smooth and efficient operation of LVRT as well as to make sure we provide transport for as many people as need it.
As LVRT is grant-funded, a large part of my job involves maintaining and producing monthly statistical reports on passengers carried and the operation of the minibuses for both the DRD and for Lisburn Partnership.
I also report to our funders on all financial aspects of the business as well as maintain the accounts, along with Mel. We hold a Board of Directors Meeting every six to eight weeks and 1 report on business development, staff and financial issues at these meetings.
I develop services and routes as well as a programme of day trips and shopping outings. Dealing with enquiries and liaising with members/passengers and customers is a major part of my job description.
I am always looking at new and better ways of delivering our services in a more efficient manner.
The vehicles are frequently inspected and cleaned - maintained to the highest standards of comfort and safety.
I inspect them on a daily basis for cleanliness as well as testing the passenger lift and wheelchair equipment. All our drivers are fully MiDAS trained and I keep records of all training to ensure everyone is covered at all times.
I normally finish in the office at around 4.45pm and collect Donna from work at 5.00pm. There are often networking meetings or gatherings with schools or community organisations out of hours, which require me to attend and promote the business.
Donna and I are involved in Youth Work for Dromore Cathedral. We both run the Youth Fellowship. This often means we are at meetings or with youth organisations in the evenings as well.
I am still involved in research as well and work with the University of Ulster on a number of transport related studies. I get a lot of satisfaction from my job, knowing that we are providing much needed transport to a wide variety of people in the rural area who would otherwise not be able to get out and about.
Ulster Star
23/02/2007